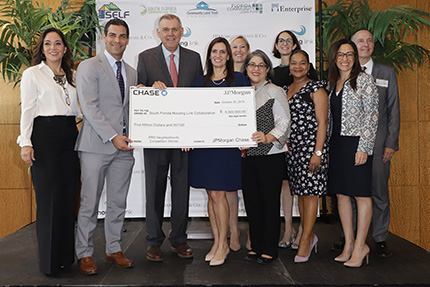 JPMorgan Chase recently announced a $5 million, 3-year investment in the South Florida Housing Link Collaborative to develop affordable, resilient, and sustainable housing for residents living near Florida East Coast Railway transit stations in Miami-Dade, Broward, and Palm Beach Counties. The South Florida Housing Link Collaborative was selected by JPMorgan Chase for its annual Partnerships for Raising Opportunity in Neighborhoods (PRO Neighborhoods) competition, which aims to spark collaboration among Community Development Financial Institutions to tackle neighborhood-specific challenges. South Florida's proposal was one of seven U.S. communities selected this year out of 75 applications across 49 U.S. cities.
The grant funds will build new housing, upgrade naturally occurring affordable housing (NOAH) units, and improve low-to-moderate income single-family homes with energy-efficient and hurricane resilient technologies − benefiting occupants, communities, and the environment. The Collaborative includes the following nonprofit organizations:
Solar and Energy Loan Fund (SELF) will launch a multifamily debt product for solar, energy and hurricane retrofits;
South Florida Community Land Trust (SFCLT) will acquire properties using the permanently affordable CLT model
Community Land Trust of Palm Beach County (CLTPBC) will acquire properties using the permanently affordable CLT model
Florida Community Loan Fund (FCLF) will provide short-term acquisition and long-term permanent financing
Enterprise Community Partners will explore the development of local Naturally Occurring Affordable Housing (NOAH) financing tools
Learn more about the PRO Neighborhoods and other 2019 Award Winners here.
Additional articles on the award to South Florida Housing Link:
Miami Herald: This new plan with create affordable housing along South Florida's rail path
The Real Deal: JPMorgan to invest $5M to build 150 new affordable rentals in South Florida
Forbes.com, JPMorgan Chase Launches $5 Million Affordable Housing Initiative in South Florida
Pictured, award announcement on October 30, 2019, at the Black Archives Historic Lyric Theater in the Overtown area of Miami. Photo courtesy of JPMorgan Chase.