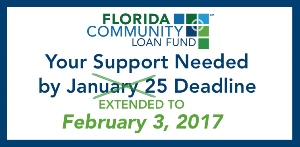 Update: Deadline Extended to February 3, 2017. Sign on to the letter here to tell Congress you support the NMTC Program!
The National NMTC Coalition is currently circulating a public sign-on letter in support of the New Markets Tax Credit (NMTC). At the tail end of 2015, as part of the PATH Act, the New Markets Tax Credit (NMTC) was extended for five years through 2019. However, this year, Congress is considering a tax overhaul that could put the five-year NMTC extension – and the program itself – in jeopardy.
As Florida's leading statewide practitioner in the use of NMTCs, we know how projects financed with NMTCs have made tremendous positive impacts in low-income communities. The task before us is to both maintain the provisions of the PATH Act and fight for a permanent authorization and expansion of NMTC.
For this reason, we are partnering with the NMTC Coalition to stress to Congress the importance of the NMTC to the 1400 NMTC eligible census tracts in Florida, and to all those potential nonprofit borrowers, businesses, trade associations, service providers, community facilities, CRAs and other state and local units of government, and investors who are seeking to use NMTC to create jobs, build and revitalize Florida's economy, and achieve high social impact.
More than 1,600 organizations signed the letter in 2014/15, and unless an organization objects, the Coalition plans to keep them on the updated letter. If you did not sign last time, please join in the effort to extend and make permanent the NMTC by signing on this year and encourage other NMTC supporters in your community to sign on as well.
Your Support is urgent...
It is very important that our elected officials hear our collective voice in support of the NMTC Program since Tax Reform is high on the list of priorities of the new Congress. Signing onto this letter along with the National NMTC Coalition is one way to show your support.
The federal New Markets Tax Credit (NMTC) is a tool that drives private investment and creates jobs in distressed low-income community areas where high priority local economic and community development projects might not otherwise be financed. NMTC is a highly targeted credit of 39% over just 7 years which has proven to more than pay for itself while mobilizing private capital markets to invest. NMTCs are executed by Community Development Entities (CDEs) set up for the express purpose of managing the transactions and assembling investor capital. To date, the program has nationally delivered $38 billion in capital to low-income communities and created over 750,000 jobs at an average cost to taxpayers of less than $20,000 per job.
In Florida …
NMTCs are financing a wide range of uniquie, locally determined, and high priority revitalization, social, and economic development projects… that but for the credit could not have been achieved. Projects such as Metropolitan Ministries' MiraclePlace in Tampaand Pasco County, Lake Point Restoration, CASA in St. Petersburg, U Miami Life Science Research Park, Camillus House in Miami, the duPont Center in Jacksonville, Hitchcock's Market in rural northwest Florida, ASPIRA of Florida in Miami (with 2 locations), Cade Museum, Lotus Village, SW Florida Regional Tech Hub, Central Florida Health Care.
Permanently extending NMTC will help Florida for years to come.
NMTC Impact in Florida, 2003-2014… by all CDEs
Investments:
• $970.2 Million in NMTC investments
• $728.2 Million leveraged from other sources
• $1.7 Billion in total project investments
Financed:
• 139 manufacturing or industrial facilities
• 350 community facilities
• 84 mixed use redevelopment projects
​Jobs Created:
• 13,973 construction jobs
• 9,075 FTE jobs
---
Why Support NMTC?
• NMTC works. The Credit delivered over $75 billion in capital to economically distressed communities between 2003 and 2014, directly creating over 750,000 jobs. 80% of investments were made in urban areas and 20% in rural areas.1
• NMTC Pays for itself. NMTC investments in businesses in low-income communities and the jobs created by those businesses generated over $984 million in federal tax revenue in 2012, more than covering the $800 million cost of the program in the same year.
2
• NMTC answers to local market interests and priorities. NMTC finances a wide range of businesses and project types (excluding housing) in distressed low-income communities. Instead of Washington picking winners and losers, NMTC places the project underwriting responsibility with community development entities (CDEs) with deep ties to the communities in which they work.
3
• NMTC is one of the only market driven resources available for community revitalization. Over the last 40 years, Federal spending on community development, as measured by a share of GDP, has dropped by 75%. As a result there is tremendous pent up private investment demand for NMTC. Between 2003-2014, NMTC applications totaled over $315 billion versus $50.6 billion in total credits awarded.
4
• NMTC is a tested and proven method for leveraging private capital. Every $1 in foregone tax revenue generally leads to $8 in private capital investment in distressed communities.
5
Notes:
1 CDFI Fund Agency Financial Report, FY 2013.
2 NMTC Economic Impact Report, December 2012.
3 National NMTC Coalition testimony to the House Ways and Means Committee, 2013.
4 NMTC Coalition, 2016 Progress Report
5 U.S. Department of Treasury.