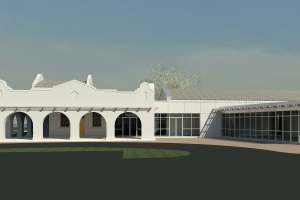 The SW Florida Regional Tech Hub held its construction kick-off on April 27, 2017, at the historic former Atlantic Coastline Railway train station building in Fort Myers, Florida.
Florida Community Loan Fund's Nelson Black was on hand to speak to the crowd about the importance of the New Markets Tax Credit program and the benefits that will be provided to the southwest Florida community as a result of this financing program. NMTC, a federal program administered by the U.S. Department of Treasury CDFI Fund, was created to provide economic development stimulus in low-income census tracts and neighborhoods.
The renovation of this historic building, which will be home office for the Southwest Florida Community Foundation and other area nonprofits, is financed through NMTC, with FCLF providing tax credit allocation. Read more about the SW Florida Tech Hub project here.
The construction kick-off was featured on the Fort Myers local NBC affiliate in an article and video, Midtown Fort Myers development begins with "Collaboratory."
A video of highlights from the kick-off event is available on Southwest Florida Community Foundation website, here.
An announcement in the Fort Myers Florida Weekly of the kick-off, which includes other information about the project and its redevelopment, is available here.
SW Florida Community Foundation CEO Sarah Owen takes a look back at the history of the building, and a look forward to its re-making, in a blog post here titled Throwback Thursdays Take On A Whole New Meaning.
Pictured, above: rendering of the SW Florida Regional Tech Hub upon completion. Below, Exterior of building prior to renovation; City and County officials and others present at the Construction Kick-Off; FCLF Chief Lending Officer Nelson Black speaks at the kick-off.