L.A. Lee YMCA / Mizell Community Center will provide services to Fort Lauderdale's Sistrunk community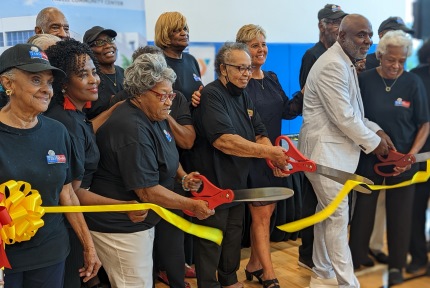 The YMCA of South Florida celebrated the grand opening of the new L.A. Lee YMCA and Mizell Community Center with a ribbon cutting ceremony in May 2022. The new 65,000 square-foot facility was financed through Florida Community Loan Fund's New Markets Tax Credit (NMTC) Program, and will reach an estimated 800 to 1200 residents per day from the area's predominantly low-income households.
Located in the Historic Sistrunk community, this is the result of great collaborations with the YMCA, the City, CRA, and many other community partners. This state of the art facility will serve people of all ages with innovative quality programs and services. The YMCA services and amenities were determined with input from the community and include preschool and education, job training, health and wellness programs, recreation area, a swimming pool, meeting space, a black box theater, and commercial retail space. Brevard College will provide classes at the YMCA, and Holy Cross Health will have a health center on the site.
"The vision for the LA Lee YMCA is to impact generations of youth, adults, and families. With FCLF's commitment and guidance, the LA Lee YMCA will change lives." – Sheryl Woods, President & CEO, YMCA of South Florida
"With its strong focus on education and job training from its partner tenant Broward College, this is a unique YMCA facility, and a great example of the impact the NMTC program can have. FCLF is proud to be a part of this project, and we stand with the community in its support. From infants to seniors, from daycare to job training, the LA Lee YMCA / Mizell Community Center will reach every facet of the community." – Nelson Black, FCLF Chief Lending Officer
Learn more about FCLF & YMCA of South Florida here.
Visit the L.A. Lee YMCA website: www.ymcasouthflorida.org/l-a-lee-ymca-mizell-community-center/
YMCA of South Florida Video: The Journey https://vimeo.com/708812657
Pictured above, ribbon cutting at the L.A. Lee YMCA. Below, photos of the facility.