CENTRAL REGION
$700,000 FCLF loan
new construction and permanent financing
96 affordable multifamily homes
$17 million total project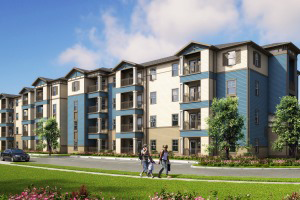 "We're excited to close on the financing for Aida Palms and commence construction. The new development will be a lasting asset to the City of Lakeland and its families, and we are happy to be a part of another successful community revitalization effort. Aida Palms wouldn't be possible without the support of our banks, and we're grateful to FCLF for being our long-term financing partner." - Mitchell Rosenstein, Green Mills Group
---
Polk County, Florida – located in the center of the state – is dotted with orange groves, rolling hills, and industry around Interstate 4. Yet in this picturesque area in Central Florida, as in so many others, affordable rental housing is in short supply. In this neighborhood, 27% of residents live in poverty, compared to 17% average for Florida; and nearly 40% of low-income renter households are cost burdened, meaning they pay more than 40% of their income on rent + utilities.
Aida Palms Apartments will help with the shortage of rental homes, providing 96 affordable homes in Lakeland, the largest city in Polk County, on a currently vacant tract of land. The apartments, in two buildings and containing a mix of 1, 2, and 3-bedroom units, will be income based: 90% will be available to households earning 60% or less of area median income, with the remaining 10% for those earning 45% or less of AMI. The affordability guidelines will be in place for 50 years, in accordance with the Low Income Housing Tax Credit program.
Construction on Aida Palms began in April 2016 and is expected to take 12 months in total. The community will be built to National Green Building standards, which will help residents with reduced utility costs through features such as Energy Star appliances, ceiling fans, and low-flow plumbing fixtures. The complex will also include a community center, playground, computer/business center, library, dog park, and on-site professional management.
Florida Community Loan Fund financed $700,000 for the construction and permanent financing of Aida Palms, along with financing from Chase and Raymond James. The developer, Green Mills Group, is experienced in building and managing affordable multifamily housing. Aida Palms will have a high social impact in the area: in addition to providing affordable homes for 96 low-income households, the project is expected to create at least 3 full-time permanent jobs and many more temporary construction jobs. A large percentage of subcontractors will be local companies, adding to Aida Palms' regional and local impact.
Pictured above, an architectural rendering of Aida Palms upon completion.