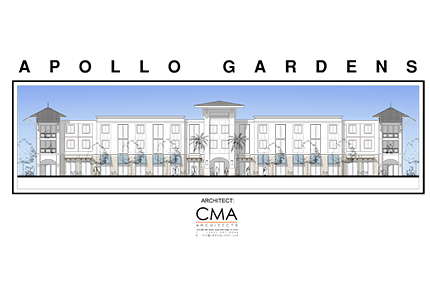 CENTRAL REGION
$1.35 million FCLF financing
Land acquisition and working capital loan
84 units supportive housing
"In a community where many have felt forgotten, Apollo Gardens is a testament to what is possible when a community comes together with a shared commitment to our most vulnerable neighbors. We are grateful to Florida Community Loan Fund for stepping in and making it possible for us to purchase this site that will soon be home to 84 of the highest need adults in Brevard County." – Stephanie Berman-Eisenberg, President/CEO, Carrfour Supportive Housing
---
Carrfour Supportive Housing provides permanent affordable housing and supportive services for the homeless. Started in Miami-Dade in 1993, CSH has since expanded to other cities across Florida where the need is great. To date, the organization has developed and operates almost 2,000 units of supportive housing.
With land acquisition financing from Florida Community Loan Fund, Carrfour Supportive Housing is building Apollo Gardens in Titusville, Florida. Apollo Gardens will offer 84 units of affordable, supportive housing, reserved for individuals in need of ongoing supportive services. The majority of residents are expected to have household annual incomes at or below 50% of AMI (Area Media Income). The development is approximately 2 miles from the center of Titusville, and within walking distance of other retail including a grocery store and pharmacy.
The project has also received financing from Florida Housing Finance Corporation and other public sources. Construction is expected to begin in 2023 with completion and occupancy in 2025.
Apollo Gardens will have a significant impact on the community, as it serves a highly vulnerable population of individuals who need supportive services to live independently. Carrfour Supportive Housing has a history of providing supportive services that directly improve the lives of the individuals and families who reside in its communities.
FCLF received a Capital Magnet Fund (CMF) award from the Community Development Financial Institutions (CDFI) Fund, which allowed FCLF to offer more favorable terms to Carrfour Supportive Housing to further help this project be successful.
Pictured, architectural rendering of Apollo Gardens, developed by Carrfour Supportive Housing.