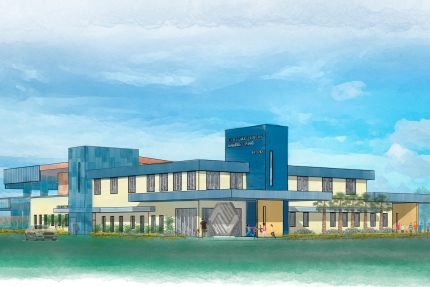 SOUTHWEST REGION
$11 MILLION total project
$10.5 MILLION FCLF NMTC allocation
Construction of 37,477 sq-ft new facility for outreach to low-income youth
Estimated reach 2,400 youth annually
200 Temporary and 34 Permanent Jobs estimated
---
Since its establishment in 1946, more than 40,000 children have passed through the doors of the DeSoto Club operated by Boys & Girls Clubs of Manatee County (BGCMC). But today its 50–year old current facility is aged and obsolete.
With financing through the NMTC Program and Florida Community Loan Fund, BGCMC will build a new 37,477 square foot building that will more than double its current capacity and reach an estimated 2,400 children and youth annually, 75% of whom are low-income. BGCMC programs include academic excellence, good character and citizenship, and healthy lifestyles. The new clubhouse will include an upgraded computer lab, space for mentoring sessions with local elected officials and entrepreneurs, an art workshop, a new gymnasium, nutrition classes in a commercial kitchen, and space for other community activities and events designed to inspire these students to become future community leaders.
The success rate for BGCMC youth program participants is high, with 95% graduating on time and 93% on grade level for their age. A study estimates that each dollar invested in a Boys & Girls Club returns $9.60 in benefits to the community, through increased earning power and lowered costs associated with healthcare, public assistance, and incarceration.
Located near the State College of Florida, Bayshore High School and IMG Academy, the new facility will be a centerpiece for county-wide youth services. Upon completion, the old building will be demolished and the land used to catalyze additional local economic development to generate revenue for BGCMC. The new facility also aligns with 4 area redevelopment plans: Manatee County Comprehensive Plan, Southwest County Urban Services Area, Priority Redevelopment Corridors, and Manatee County Children's Services Annual Plan.
Florida Community Loan Fund (FCLF) provided $10.5 million in federal NMTCs for the Boys & Girls Clubs of Manatee County. The investor is PNC Bank. Additional commercial loan financing provided by Synovus Bank. This transaction was finalized in June 2018.
"Without NMTC, it could have taken years to pull together financing for this project. The time to mentor children and youth is right now – not years down the road. This new Boys & Girls Clubs of Manatee County facility will reach thousands of students every year, in their own back yard; and it will reach them right now." – Nelson Black, FCLF Chief Lending Officer
Community Profile:
Bradenton, FL/ Manatee County Comprehensive Plan
25% Poverty Rate
16.5% Unemployment Rate – 2.1x National Average
Income 51% of AMI
TIF District, USDA Food Desert, Medically Underserved Area / Population
To download this information as a pdf, click here.
Learn more at www.bgcmanatee.org
Watch the video to see kids' reactions to their new clubhouse and learn more about how NMTC is helping this project succeed.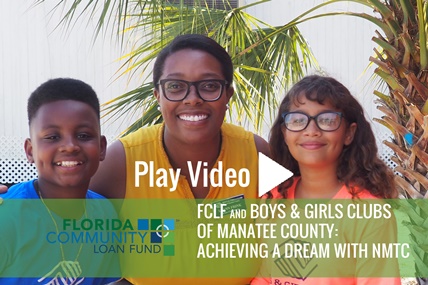 Pictured above, rendering of the new DeSoto Club upon completion. Below, existing clubhouse building.