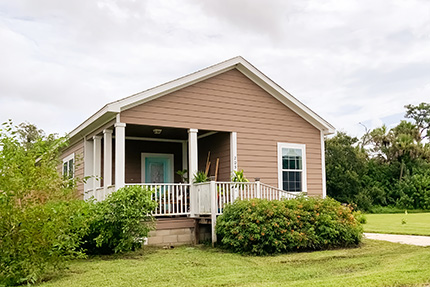 CENTRAL REGION
$1.5 Million FCLF Financing
Refinance and Development Line of Credit
70 Lots for affordable homes in Phase 1
Braveheart Properties was formed when its founders realized many families in Brevard County do not have homes because of high rents, difficulty meeting deposits and qualifications, and the lack of affordable, safe, small housing. Braveheart's mission for the Peace Wind development is to create a community that provides a variety of affordable housing options in an environment that is educational, relational, sustainable, and fun. The desired outcome for Peace Wind is to help displaced and low-income residents move into a stable, healthy, sustainable lifestyle.
With financing from Florida Community Loan Fund, Braveheart Properties favorably refinanced a portion of the land for the Peace Wind development, and the revolving line of credit is available to be drawn on for infrastructure improvements, construction of the community center, and building affordable homes on the platted lots. Builders on site will include Echelon Builders, Bethel Home Builders, Cornerstone Tiny Homes and Movable Roots. Homes will range in size from one-room efficiencies to 5 bedrooms, including tiny homes on or off wheels, custom panel homes (SIP) and conventional homes. The larger homes will be built using structural insulated panels, which will maximize energy efficiency and lower building costs. The community will offer a wide range of housing that will appeal to veterans, homeless, single parents, small and large families, and retirees – with both permanent housing and transitional housing on-site.
Peace Wind will also include a community center with a clubhouse, pool, and recreation areas. Educational opportunities will be available on-site, such as financial planning and budgeting, parenting, sustainable vegetable gardening, canning and food preparation, home maintenance, car maintenance, and hands-on job skills. Classes and services will be provided through partnerships with local agencies and churches. The Peace Wind site has access to public transportation, and is close to jobs, shopping, and services.