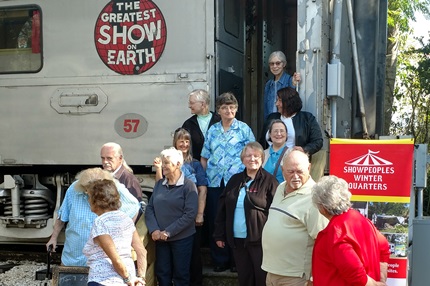 WEST REGION
FCLF LOAN $150,000
ACQUISITION / REHABILITATION LOAN
up to 10 units of affordable housing
There are 50-60 circuses and between 300-400 carnivals in the United States, accounting for nearly 300,000 people on the move touring America with circuses, carnivals, race car circuits and other venues. Traveling show personnel sometimes find their travels permanently or temporarily halted because of age or health problems.
There is a strong need for a safe haven at affordable prices for these individuals. Many communities in Florida that accommodate mobile homes and RVs are either full or no longer able to offer affordable space. Many of those who have called such facilities have heard the answer "no."
The Showpeople's Winter Quarters, or SWQ (formerly known as Circus and Traveling Shows Retirement Project, or CATS) was formed to explore affordable housing needs for this group who are often on limited incomes. The goal was to obtain land and establish a community where show people can live and share their tradition. SWQ envisions a facility that can safely accommodate space to park rigs, store equipment and/or animals at an affordable price with a related support system in a community of show people.
A loan from Florida Community Loan Fund (FCLF) helped SWQ purchase acreage in Hillsborough County, and here the organization will establish the Showpeople's Winter Quarters. The land includes one single family home which will provide a home for on-site managers. Also included are pads for mobile homes or RVs and additional land. The project will provide space for up to 10 households.
SWQ is patterned after a similar facility in Texas. The organization is supported and encouraged by several local Florida organizations, including the Community Foundation of Sarasota.
View more photos of SWQ (formerly known as CATS) on FCLF's Flickr Page.
Photo: A few of the residents at Showpeople's Winter Quarters gather for the opening of the community center.