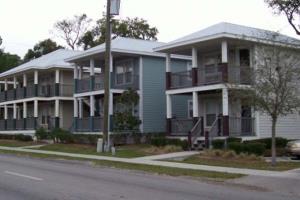 WEST REGION
FCLF LOANS: $1.1 million
5 LOANS for Renovations, Refinance and Working Capital Lines of Credit
Providing Financing for 10 Affordable Rental Apartments, Business Incubator, Workforce Training and Placement, Violence Prevention, and Neighborhood Revitalization Services
Neighborhoods in the East Tampa community have been riddled with dilapidated, overcrowded housing, along with high rates of poverty and unemployment, teen pregnancy, high numbers of school dropouts/suspensions, and drug abuse. CDC of Tampa, the Corporation to Develop Communities of Tampa, was formed in 1992 to alleviate poverty and physical deterioration in this community. CDC of Tampa's Vision is that "Tampa Bay communities will be healthy and prosperous for all residents."
Through its housing programs, CDC of Tampa works to revitalize and strengthen communities in Hillsborough and Pinellas County. The organization also offers career resources, youth programs, and other community services. CDC of Tampa has been transforming neglected areas into communities of choice, committed to the following outcomes:
Residents who are educated homebuyers and homeowners;
Residents who have adequate financial opportunities for buying and maintaining their homes;
Housing that is safe, decent, and financial sustainable.
Florida Community Loan Fund has provided financing over the past 15 years through 5 loans to CDC of Tampa. FCLF loans have been used for renovation and refinancing of multifamily and commercial buildings, and working capital loans to bridge grants. Learn more about Gardens at Diana Point, a CDC of Tampa multifamily housing community financed by FCLF, in this story.
Learn more about FCLF and CDC of Tampa in this video.