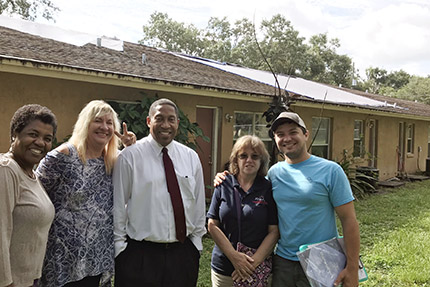 CENTRAL REGION
$77,000 FCLF financing, 2 loans
Working capital and rehabilitation financing
Outreach and housing for low-income HIV / AIDS patients
The Center for Multicultural Wellness and Prevention, CMWP, is a nonprofit organization that has operated in Central Florida since 1995, providing area minority populations with a variety of education and outreach services targeting health disparities. CMWP programs are non-clinical, culturally and linguistically sensitive, and include education, prevention, intervention, and case management. Since 2005, CMWP has also participated in the U.S. Housing of Urban Development's HOPWA program, or Housing Opportunities for Persons with AIDS, providing housing or financial assistance for rent and mortgage payments.
With financing from Florida Community Loan Fund, CMWP received the funds to replace a damaged roof on a supportive housing complex. This facility provides affordable rental apartments and accompanying supportive services for 11 households. FCLF and CMWP have been long-term partners: a 2001 loan provided financing for working capital to help the organization's education services.
The Center for Multicultural Wellness and Prevention regularly partners with the Florida Department of Health, local County health departments, City of Orlando and other agencies to provide a wide range of services for patients in need. CMWP serves over 5,000 clients annually; and 1,688 of those receive some type of housing assistance through HOPWA.
Learn more at www.cmwp.org
Pictured, Center for Multicultural Wellness and Prevention staff in front of the supportive housing facility to be renovated.