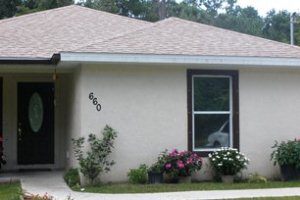 CENTRAL and NORTHEAST REGIONS
FCLF LOANS: $1.27 million
4 LOANS for New Construction / Rehab
21 Affordable Homes
23 Temporary Construction Jobs
Central Florida Community Development Corporation (CFCDC) is a non-profit organization founded in 1982 to provide affordable housing, stimulate investment in distressed communities, and improve the quality of life for low to moderate income households.
CFCDC, with offices in Volusia and Brevard Counties, attains these goals through two departments, Economic and Housing Services. In addition to its work as a developer of affordable homes, the organization provides small business counseling and lending services. It is the only certified SBA Intermediary Lender in East Central Florida, and also administers a Black Business Investment Loan Program pool.
CFCDC has been an FCLF borrower since 2003. With an FCLF revolving line of credit , Central Florida CDC constructed homes which were sold to low-income families in Volusia and Brevard Counties. Additional lending in 2007 allowed CFCDC to expand its affordable housing development to St. Johns County. In addition, FCLF provided funds to assist CFCDC in purchasing a building in Cocoa to provide small business services. FLCF also provided emergency hurricane funding.
For more information on Central Florida CDC: www.cfcdc.com
To view more photos of Central Florida CDC homes, view our Flickr page.