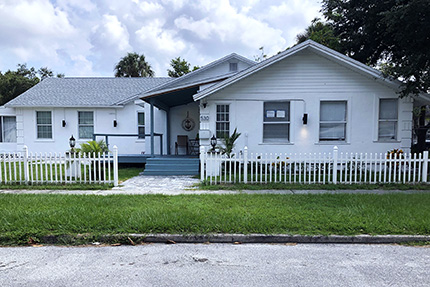 WEST REGION
$750,000 FCLF loan
Financing for 4 affordable homes
Providing housing for up to 27 low-income individuals
In St. Petersburg, Florida, as in so many areas of Florida, redevelopment and property value appreciation are causing average rents to skyrocket, making finding affordable housing difficult. A new way of living and creating affordable homes is being explored through Docked Living, where residents live in a house with shared common areas – such as kitchens and laundry – and are considered house members rather than renters or tenants.
There are currently 3 Docked Living communities in St. Petersburg, and a 4th sister property, Peace House, is owned and operated by the same entity. Properties range in size from 3 to 8 bedrooms, each with its own private bath. Common spaces are shared, and on-site amenities are included in monthly costs, such as utilities, internet, cleaning services, and some supplies. The co-living homes are designed for low-income single adults who value community and sharing. Current Docked Living house members have occupations such as construction worker, school teacher, artist, retail worker, restaurant server, retiree, administrative assistant, and small business owner, to name a few.
With Florida Community Loan Fund financing, Docked Living will purchase and renovate additional distressed houses in areas identified for redevelopment and transform them into attractive co-living affordable rental homes. This project brings a strong impact to the St. Petersburg area, as it provides a true affordable housing option to 27 low-income individuals. In addition to housing, the project also provides stable employment in construction to 10 individuals who complete renovations on the properties.
Pictured above, a Docked Living co-living home. Below, shared kitchen space.