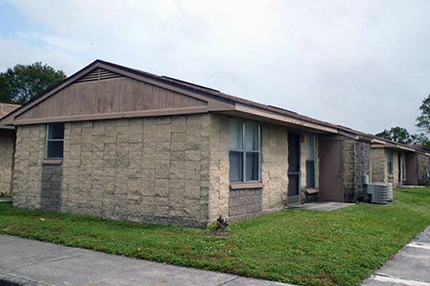 SOUTHWEST REGION
$4.3 MILLION FCLF financing
Refinance and rehabilitation financing
100 Affordable rental apartment for seniors
Florida is home to 3.3 million people age 65 and older. By 2030, this number will exceed 6.3 million. There is already a critical need for affordable housing for this age group, which is expected to increase in the coming years as this demographic continues to grow.
In Fort Myers, Florida, Dunbar Improvement Association operates the Palm City Gardens Apartments, which offers affordable rental homes for 100 very low- and extremely low-income seniors. The complex consists of 13 one-story buildings and was built in 1987. Available homes are studio and one-bedroom apartments, and with existing income restrictions the average resident pays $150 per month in rent.
With financing from Florida Community Loan Fund, the Dunbar Improvement Association is refinancing an existing loan and at the same time undertaking extensive renovations on Palm City Gardens. The renovations will include converting 48 apartments to barrier-free living spaces, new ramps and sidewalks, new roofs, plumbing and HVAC system replacement, and energy efficient upgrades which will save money for the residents.
Refinancing the existing loan will result in monthly cash flow savings for Dunbar Improvement Association, which can be reinvested into the community. In an area where 32% of residents live in poverty Palm Gardens Apartments is providing affordable rental homes for 100 area seniors.
Learn more at http://palmcitygarden.com/