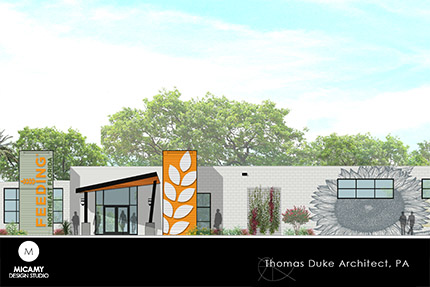 NORTHEAST REGION
$16.1 million Total Project Cost
$14 million FCLF Federal NMTC Allocation
$7 million FCLF Community Development Financing
Purchase and rehabilitation of 120,000 sq-ft facility to address food insecurity
Estimated reach 350,000 annually
75 Temporary and 63 Permanent Jobs estimated
"Feeding Northeast Florida has long needed a larger, more efficient facility from which to serve those in our community facing hunger. Florida Community Loan Fund immediately understood the value and importance of this project and partnered with us to make this dream a reality. We are grateful for their vision and expertise throughout this process." – Susan King, President & CEO, Feeding Northeast Florida
---
Feeding Northeast Florida (FNEFL) is northeast Florida's largest regional food bank offering food distribution services to combat food insecurity across 8 counties since 2014. FNEF's food distribution network includes over 300 nonprofit and faith-based food pantries, feeding organizations, meal programs, and schools. Its innovative programs include mobile unit delivery, fixed and "pop up" food pantries, Corner Markets, Snack Packs for school children, nutrition by prescription, veteran meals, and disaster relief food assistance. A member of the national Feeding America and statewide Feeding Florida networks, FNEFL accesses state of the art technology to "map the meal gap" and has exclusive access to fresh produce from Florida farms at the peak of their nutritional value.
FNEFL nourishes hope and restores dignity to those living with hunger through access to nutritious food, innovative programming, and education. In 2020, FNEFL distributed nearly 31 million pounds of food – 84,500 meals per day.
FNEFL serves a highly disadvantaged population where household incomes are all within 200% of the federal poverty level. The region's need for services to address food insecurity has grown dramatically by 78% over the past 2 years. Both with a significant increase in demand resulting from inflationary and economic pressures on these most vulnerable persons and with a potential opportunity to expand services to 5 additional counties, FNEFL estimates that distribution demand will increase to as much as 56 million pounds, reaching over 350,000 individuals annually.
To date, FNEFL has managed its operations from two separate buildings – creating inefficiency and increased costs – with limited freezer space and inadequate room for administrative staff and volunteers. The needs of the organization have simply outstripped its makeshift facilities.
With financing through Florida Community Loan Fund and the New Markets Tax Credit program, FNEFL will purchase and renovate a 120,000 sq-ft warehouse that will become its long-term home. The new facility will have ample warehouse space, office space, and abundant parking for fleet vehicles. The new facility located in in Jacksonville will be near major interstate highways optimal for regional distribution.
Florida Community Loan Fund provided $14 million in federal NMTCs for Feeding Northeast Florida. Additionally, FCLF provided $7 million financing through its community development loan program. The investor is U.S. Bank CDC. The project is in a severely distressed and impoverished area, and the renovation of this property will benefit the surrounding area. This transaction was completed in March 2022.
"It's not often that you have the opportunity to help a dedicated nonprofit directly affect the lives of so many people. This is one of those times." – Nelson Black, Chief Lending Officer, Florida Community Loan Fund
---
Community Profile:
26% Poverty Rate
Household Income is 86% of AMI (Area Median Income)
Food Desert
FEMA-Designated Disaster Area
Pictured above, architectural rendering of the new home of Feeding NE Florida's consolidated services, with room for expansion. Below, rendering of the interior of the completed facility.