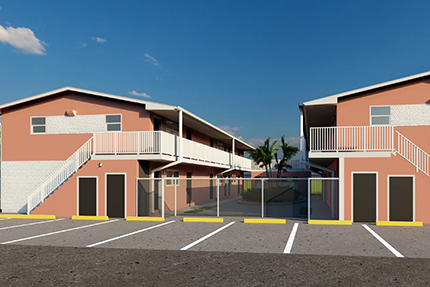 SOUTH REGION
$1 million FCLF loan
Acquisition / Rehab financing
233 units of affordable housing
"We are extremely thankful to FCLF for providing this much-needed funding for the community. With rising interest rates and costs, every dollar really matters, and we were so lucky to have FCLF as a partner on this transformative project." – Sydne Garchik, Principal and Founder of MRK Partners
---
Florida Community Loan Fund provided financing towards the purchase and renovation of 233 units of affordable rental housing on scattered sites across Homestead and South Miami-Dade County. The Gardens of Homestead Apartments offer a mix of one- and two-bedroom apartments, with a minimum of 171 units being affordable to households with incomes at or below 50% of the Area Median Income (AMI).
The rental apartments, located in 18 separate buildings, were acquired by Homestead Portfolio LP and are currently undergoing rehabilitation by MRK Partners (MRK). MRK understands that revitalization extends beyond just affordable housing That's why they are dedicated to delivering services that enhance the well-being of both their residents and the communities they serve.
FCLF received a Capital Magnet Fund (CMF) award from the Community Development Financial Institutions (CDFI) Fund, which allowed FCLF to offer more favorable terms to Gardens of Homestead to further help the project be successful.
https://mrkpartners.com/portfolio/gardens-of-homestead-apartments/