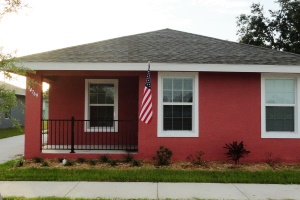 SOUTHEAST REGION
$450,000 FCLF loan
Land acquisition for 28 single family homes for sale
Habitat for Humanity of Martin County has been building affordable homes using the Habitat model for 30 years, with 128 homes built to date throughout Martin County, focusing on 7 neighborhoods. The organization also has a second program, called A Brush With Kindness, to help existing homeowners maintain and improve their houses with volunteer labor and materials. To date, more than 250 homes have been improved through this program.
When a 2.5-acre parcel of land that was formerly the site of a mobile home park became available in Jensen Beach, Habitat for Humanity of Martin County saw an opportunity to improve this low-income riverfront-area community by building new Habitat homes and revitalizing existing homes through A Brush With Kindness.
Florida Community Loan Fund provided $450,000 in financing to purchase the land – known as the Rio Project for its location on the St. Lucie River and as part of the Martin County CRA (Community Redevelopment Agency) Rio redevelopment plan. Construction will begin in mid-2017, with 5 to 7 new homes built each year to reach the projected total of 28 homes. At the same time, existing area homeowners will have an opportunity to make repairs and improvements on their homes through A Brush With Kindness, ranging from painting to weatherization to building wheelchair ramps. The end result will be a community of new homes and improved properties, including new, young families as well as older, established households.
To learn more, visit www.habitatmartin.org.
Pictured: sample homes built by Habitat for Humanity of Martin County (as pictured on the organization's website).