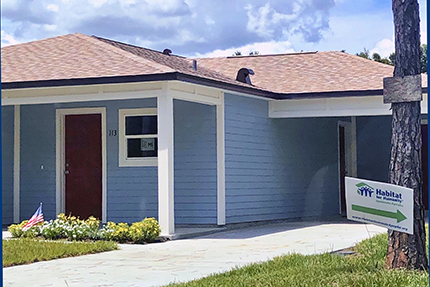 CENTRAL REGION
$500,000 FCLF loan
Construction line of credit financing
10 new single-family affordable homes
"Partnering with FCLF has allowed us to lower costs and maintain our construction schedule in our Juniper Bend community, where families in need of affordable housing can thrive, help each other, enjoy a higher quality of life, and have access to additional services. In the long run, this partnership will help us serve more families, more efficiently." – Catherine Steck McManus, President and CEO, Habitat for Humanity Greater Orlando & Osceola County
---
In Apopka, Florida (north Orange County), an old, dilapidated apartment complex was closed amid complaints of deterioration. The County recognized the need for affordable housing in the area, and in 2017 began working with two local Habitat for Humanity affiliates to develop new communities on the site: Juniper Bend and Arbor Bend. Habitat for Humanity Greater Orlando & Osceola County – one of these organizations – reached out to Florida Community Loan Fund for construction financing.
Habitat for Humanity of Greater Orlando & Osceola County was founded in 1986 with a mission to bring people together to build homes, communities, and hope. Habitat Orlando & Osceola has built, rehabbed and repaired more than 735 homes. Families and individuals in need of a hand up partner with Habitat Orlando & Osceola to build or improve a place they call home.
With a construction line of credit from Florida Community Loan Fund, Habitat Orlando & Osceola will build new homes in Juniper Bend. These single family homes will be available for ownership to low-income households, with mortgage payments that are never more than 30% of income. Prior to new home purchase, Habitat families receive financial literacy and homeownership classes, and each family gives back 75 to 250 hours of sweat equity hours.
The Juniper Bend project will have strong impact in the area. By removing a source of visual and economic blight in the community and replacing it with new single family affordable homes, this project will not only stabilize the surrounding single family neighborhoods in South Apopka, but will also add 10 additional homeowners who have committed themselves to being successful through educational courses and sweat equity. By purchasing homes and becoming residents of the community, these households will also contribute to the area's economy.
It has been shown that neighborhoods where most people own their homes have less crime and people are more likely to fix their homes and solve other problems. Homeownership builds stronger families who are:
25% more likely to graduate from high school
116% more likely to graduate from college
59% more likely to own a home within 10 years of leaving parents.