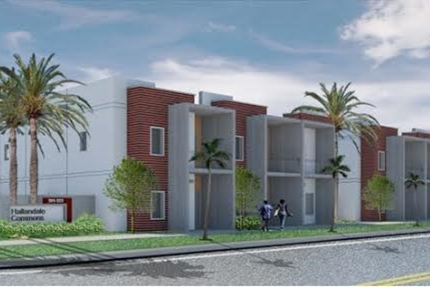 SOUTH REGION
$3.1 million FCLF financing
Construction loan for 10 affordable townhomes
"Many lenders wouldn't even consider making this kind of investment in this part of Hallandale Beach. Florida Community Loan Fund was willing to do the work necessary to understand what's going on in Hallandale." – Kevin Hanna, co-developer, Donaldson-West Venture, LLC
---
In an area of Broward County that has historically been neglected and blighted, the Hallandale Beach Community Redevelopment Agency (CRA) is focusing on economic development and revitalization, including new police and fire stations, development of new facilities for local seniors, road/infrastructure improvements and the redevelopment of neighborhood parks. With little residential construction in this area since the 1970s, the CRA now looks toward building new housing that is affordable to workforce households.
Donaldson-West Venture, LLC, will develop Hallandale Beach Commons, which will consist of 10 new townhome units—several of which will be available for sale to low- and moderate-income families. Each home will be approximately 1,700 sq ft, with 2 bedrooms and 2½ baths. Construction is expected to be complete in mid 2021. Information on purchasing these new homes is being publicized to area workforce employers such as the Hallandale Fire and Police departments, the School Board, and the first time homebuyers programs at the Urban League and Broward Housing Authority.
Florida Community Loan Fund provided $3.1 million in financing for construction of the Hallandale Beach Commons. Additional funding for the project is provided by the Hallandale Beach CRA and the City of Hallandale Beach.
As the first new residential for sale townhome project in the neighborhood in many years, Hallandale Beach Commons will pave the way for additional development of adjacent and nearby parcels. Strong support from the CRA and the City are indicative of their confidence that the project will be catalytic for neighborhood redevelopment.
"Hallandale Beach Commons serves as a great example of true public/private partnering," says Matt West, one of the co-developers. "No way this deal gets done without the CRA staff and the support of the Hallandale Beach City Commissioners."
"Many lenders wouldn't even consider making this kind of investment in this part of Hallandale Beach. Jim Walker and the Florida Community Loan Fund were willing to do the work necessary to understand what's going on in Hallandale and got comfortable with our deal," said Kevin Hanna, the other co-developer.
www.hallandalecommons.com
Pictured, architectural rendering of Hallandale Beach Commons.