CENTRAL REGION
FCLF LOAN: $590,000
NEW CONSTRUCTION
17 jobs created
"Thanks to FCLF for providing a new construction loan for 6 homes, and seeing our project through to a successful completion." – Jill McReynolds, Executive Director, H.A.N.D.S. of Central Florida
HANDS of Central Florida, Inc. was founded to assist Central Florida communities to increase the supply and availability of affordable housing, both rental and ownership. As a Community Housing Development Agency (Federally Approved Housing Developer), HANDS develops affordable single- and multi-family housing units. HANDS also offers homebuyer education and counseling services in group or one-on-one sessions.
HANDS owns over 800 affordable rental units in 3 central Florida counties, and builds annually 5 to 10 single-family affordable homes for sale on scattered lots.
With a revolving line of credit from FCLF, HANDS developed 6 single-family homes in Kissimmee for sale to low-income families. These homes emphasize attractive design features and high-quality construction.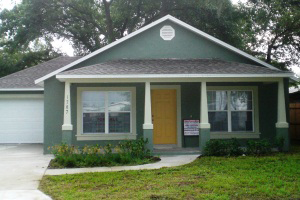 To view more photos, visit our Flickr page for HANDS of Central Florida.