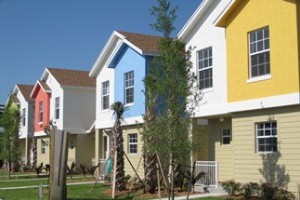 SOUTHEAST REGION
FCLF LOAN: $650,000
CONSTRUCTION LOAN
11 Multi-Family Homes
39 Jobs Created
New Urban Community Development Corporation (NUCDC) and Urban League of Palm Beach County entered into an agreement to jointly develop the $2.5 million new construction of the Henrietta Townhome Community, an 11-unit development located in northwest West Palm Beach. The project provides affordable rental housing for families participating in the borrowers' "homeownership incubator" program which helps address tenant credit and income issues. Each resident of the Henrietta Townhomes has the opportunity to participate in these homebuyer education and credit counseling programs.
NUCDC is a nonprofit housing development corporation, organized as an affiliate of the Urban League of Palm Beach County, Inc. Its mission includes developing and rehabbing affordable housing, providing education through workshops and seminars, and increasing homeownership in the communities it serves. The Urban League's Comprehensive Housing Counseling Program has been in existence for over 18 years, and provides clients with confidential one-on-one counseling as well as group sessions. The activities are geared to prevent homelessness, educate clients of their rights and options and to ensure suitable housing for low- to moderate-income families throughout Palm Beach County.
The Henrietta Townhomes are 2-, 3-, and 4- bedroom units ranging in size from 967 to 1,361 square feet. The development boasts a courtyard and ornamental lampposts; some units have front or back porches to connect them to the street. The site in northwest West Palm Beach is blocks from a number of historic sites and is in a neighborhood with an historic designation. Funding for this project, in addition to FCLF, is being provided by City and County resources through SHIP, HOME, and other programs. In addition to providing homes and homebuyer education for low-income families, this development is part of an ongoing city-supported effort to catalyze redevelopment in the neighborhood.
To view more photos visit our Flickr page on New Urban CDC.