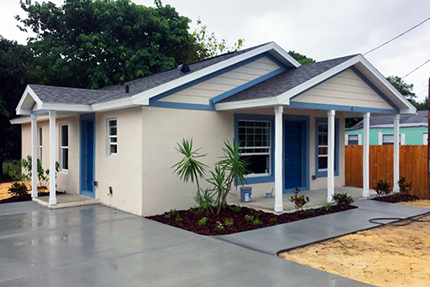 CENTRAL FLORIDA
$300,000 FCLF loan
Revolving line of credit
8 single family affordable homes for ownership
"FCLF shares my goal of providing low-income housing in Polk County. FCLF staff members were helpful, easy to contact, quick with information, and willing to listen to my concerns and needs… refreshing to say the least! My customized loan from FCLF affords flexibility and increases my opportunities to invest in underserved neighborhoods." – Bob Karan, Owner, Homes of Davenport
---
In east Polk County, Florida, as in so many Florida communities, there is a real need for affordable housing. Polk County has a disproportionately high number of low- and middle-income households in comparison to Florida and the nation. The average household income in Polk County in 2014 was $55,827; compared to $65,254 average for the state of Florida.
Homes of Davenport wants to improve the quality of life in east Polk County neighborhoods, and one way to achieve this goal is by building new, affordable homes available for ownership to low-income families. The HOD organization buys vacant lots scattered throughout the community and, with financing from FCLF, will build single family homes in areas in and around Davenport, Haines City, Lake Alfred, Winter Haven, and Lake Wales. By building simple, affordable homes in the 850 to 1100 square-foot range, Homes of Davenport can keep building costs low, passing savings on to home buyers. The average HOD home selling price will be 70% to 85% of the current price of comparable homes in the area.
Florida Community Loan Fund provided a line of credit for Homes of Davenport, which will help HOD build strong communities with up to 8 new houses. The line of credit financing will allow HOD to purchase lots, build a home, sell the home; and then draw financing to repeat the process. The number of homes could be increased in the future as homes are sold to low-income families and more lots become available.
Pictured above: A new, affordable home under construction Homes of Davenport. Right, another new, affordable home will soon be built on this vacant lot.
---
Bob Karan, Owner of Homes of Davenport, talks about his experience with Florida Community Loan Fund:
I was quite surprised and pleased to come across a lender that shared my goals for providing low income housing in Polk County. FCLF partnered with me to create a customized loan package that affords flexibility in terms and the ability to use funds for rentals, repairs, or resales. This increases my opportunities for investing in underserved neighborhoods.
The FCLF representatives assigned to work with me were all extremely helpful, easy to contact, quick with information, and willing to listen to my concerns and needs. This is unlike most businesses that I deal with every day and refreshing to say the least! Optimism is contagious and they help to get it started for many people. Thank you.
My properties are infill lots in existing low income neighborhoods. As I meet the neighbors that live on the same street, I see a tremendous interest in these new houses being built. Existing residents enjoy seeing improvements and often begin to clean up their yards and paint walls. I am focused on one small section of town with hopes that the impact will multiply. The new houses are a good fit in size and cost, and will change how residents live in their community. I am looking forward to a long relationship with FCLF and am very excited about doing larger projects in the future.
Learn more at www.homesofdavenport.com.