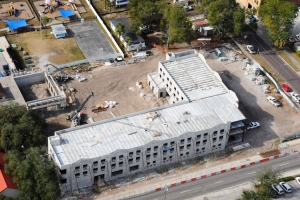 WEST REGION
TOTAL PROJECT: $19.7 million
FCLF NMTC ALLOCATION: $10 million
QLICI: $10 million
93,000 Square Foot Complex
125 Temporary Construction Jobs
84 New or Retained Permanent Jobs
Metropolitan Ministries was formed in 1972, when 13 Tampa area churches - representing Presbyterian, Methodist, Lutheran, Baptist, and Catholic denominations - came together to create a single organization that would increase efficiency, eliminate duplication of services, and meet the growing needs of the homeless. According to the National Alliance to End Homelessness, the Tampa Bay area has the highest rate of homelessness in the nation: nearly 18,000 on any given night, and an estimated 4,000 of these are children.
Metropolitan Ministries has redeveloped a vacant site and expanded services on a new 4-acre human services campus. The new campus, named "MiraclePlace," utilized financing through the NMTC program to construct 93,000 square feet of new and renovated space that will offer education, rehabilitation, family counseling, child care, food service facilities, and emergency shelter. These buildings will also be the site of a unique K-5 elementary school, as part of the Hillsborough County Public School system, offering small class sizes and additional social services for up to 136 at-risk low-income children. All programs and services are designed to move homeless families toward greater self-sufficiency.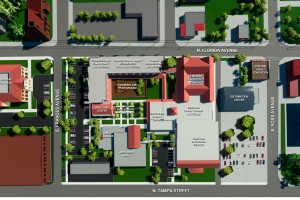 "MiraclePlace" campus, opened in Summer 2013, is located north of downtown Tampa and borders a designated community redevelopment area. NMTC financing is enabling Metropolitan Ministries to launch this major $19.7 million project. Upon completion, Miracle Place estimates it will annually serve more than 20,000.
The Florida Community Loan Fund (FCLF) provided $10 million in federal NMTC allocation for the "Miracle Place" project, alongside an additional $6 million federal NMTC credits from Whitney New Markets Fund. State NMTCs were also provided by Enhanced Community Development. The investor in the project is JPMorgan Chase.
INVESTOR: JPMorgan Chase
ADDITIONAL NMTCs: Whitney New Markets Fund
STATE NMTCs: Enhanced Community Development, LLC
This transaction was finalized in December 2012.
www.metromin.org
Read more about FCLF and Metropolitan Ministries in this success story.
To view more photos, visit our Flickr page for Metropolitan Ministries.
In October 2013, MiraclePlace received an Operating Business of the Year Award from Novogradac & Company, LLC. Click here to view a video about this award.