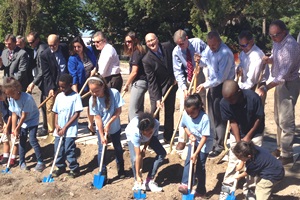 WEST REGION
TOTAL PROJECT $16.7 million
FCLF NMTC ALLOCATION $11 million
40,000 square feet in 2 locations
18 permanent jobs created or retained
125 temporary jobs created or retained
"FCLF is a difference maker! By partnering with leaders in the community and other financial institutions they make miracles possible. Their team provides solutions to bring about real change in a community." – Tim Marks, President & CEO, Metropolitan Ministries
---
Metropolitan Ministries has been a mainstay in providing housing and programs for the homeless in the Tampa Bay area for more than 40 years. With a focus on transitioning individuals and families out of homelessness, Metropolitan Ministries and Florida Community Loan Fund (FCLF) previously collaborated on the construction of MiraclePlace, a facility that offers family apartments, counseling, education and career training, day care, and other services. Financing for MiraclePlace was made possible through the New Markets Tax Credit (NMTC) Program.
But Metropolitan Ministries didn't want to stop there. Acknowledging an increased demand for their services, this second phase of expansion will also use the NMTC Program to:
Construct a new building for its on-campus school that is operated by the Hillsborough County Public School system, expanding enrollment capacity to 152 students;
Build a 16,000 square foot facility that will house a recreation center and gymnasium, food distribution center, adult education & training classes and a chapel;
And, in Pasco County, renovate a 6,000-square foot donated building that will expand the organization's food distribution and outreach program in Pasco, Hernando, and Pinellas Counties.
FCLF provided $11 million in NMTC allocation for the $16.7 million MiraclePlace Pasco Tampa project. The investor is JPMorgan Chase. Additional NMTC allocation and investment is provided by Whitney Bank CDC/Hancock Bank. This transaction was finalized in June 2014.
Read more about FCLF and Metropolitan Ministries in this success story.
View more photos of Metropolitan Ministries, Phase Two, on FCLF's Flickr Page.
For more information, visit www.metromin.org.
Pictured: artists' renderings of the school exterior and gym.