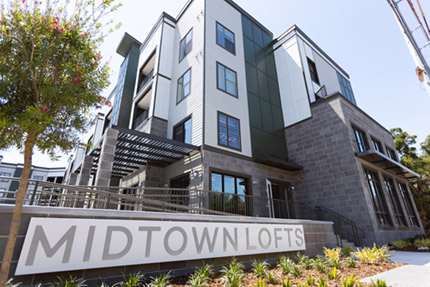 CENTRAL REGION
$1.25 million FCLF loan
80 multifamily rental homes
"Thank you to FCLF for the help getting Midtown Lofts stabilized and converted. This is our favorite financing team to work with, and for good reason! We're proud of this community and will work hard to make sure the residents are too." – Mitchell Rosenstein, Green Mills Group
---
According to 2020 Census data, the Lakeland-Winter Haven metropolitan area is tied for the second highest rate of growth in the nation between 2019 and 2020. Along with such rapid growth comes an extreme shortage of affordable housing and exploding rental rates.
Midtown Lofts in Lakeland will help address the shortage of affordable rental homes, with 80 new rental apartments. 90% of the units have rents based on income with affordability guidelines in place for 50 years through the LIHTC (Low-Income Housing Tax Credit) Program. The remaining 10% are available for rent at market rates. The apartments are in one 4-story building and include a mix of 1, 2, and 3-bedroom units. Amenities include energy-efficient appliances, low-flow plumbing fixtures, and on-site community space includes a fitness center, game room, library, and business center with computers.
The neighborhood around Midtown Lofts is primarily residential, with convenient access to nearby commercial and retail shops. The census tract is 60% minority with a median household income of $32,974, or 65% of AMI (Area Median Income).
Florida Community Loan Fund financed $1.25 million through a term loan for Midtown Lofts. The developer, Green Mills Group, has developed and managed affordable multifamily housing since 2010. Midtown Lofts will have a high social impact in the area: in addition to providing affordable homes for low-income households, the project is expected to create at least 3 full-time permanent jobs and many more temporary construction jobs.