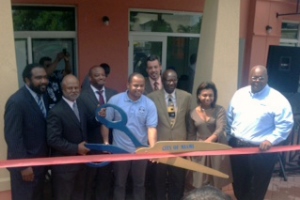 SOUTH REGION
FCLF LOAN $590,000
ACQUISITION / REHAB of 10 affordable rental homes and 3,500+ sf of retail space
The Historic Overtown Folklife District of Miami is in an area of 58% poverty and 98% minority; an area that has been targeted for revitalization by the Historic Overtown Folklife District Partnership Initiative.
With a loan from the Florida Community Loan Fund (FCLF), MTZ Carver has purchased a vacant, abandoned 3-story building in the neighborhood. Rehabilitation of the building will be accomplished with additional funding from the City of Miami and the SE Overtown/ Parkwest CRA. Upon completion, the building will offer 10 rental apartments and more than 3,500 square feet of retail space, which will house needed community support services and other retail and offices. The 10 apartments will consist of 1- and 2-bedroom units that will be available to low- and moderate-income residents.
MTZ Carver, through its affiliate Mt. Zion Development, provides affordable housing for low- and moderate-income families, assisting individuals to become self-sufficient. MTZ Carver also offers homeownership education and assistance through partnerships with local organizations. Established in 1965, Mt. Zion Development is an affiliate of the historic Mt. Zion Baptist Church in Miami. The organization is also a member of the Miami Folklife District Stakeholders Committee and a founding participant in the Historic Overtown Folklife District Improvements Association.
To view additional photos of the project, view our Flickr page for MTZ Carver.
For more information on MTZ Carver, visit www.mtzdevelopment.org.
To read more about FCLF's Community Development Fund lending, click here.
Pictured below left, building before rehab. Below right, completed building, August 2014.