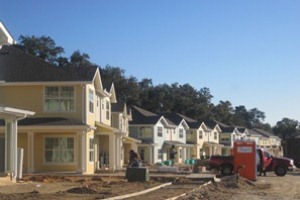 NORTHWEST REGION
FCLF LOAN: $480,000
LAND ACQUISITION LOAN
96 New Rental Homes
2,600 Square Foot Community Facility
183 Temporary Construction Jobs

Community Enterprise Investments Inc. (CEII) has been a community-based CDC for over 30 years, with a mission to revitalize economically distressed neighborhoods in North Florida and southern Alabama. One of FCLF's first borrowers, CEII now has 8 loans for various projects.
Palafox Landing, just outside the city limits of Pensacola, will provide homes for nearly 100 families, along with a community center with meeting space, library and computer lab, a playground, pool, and other community facilities.
For more information on Community Enterprise Investments, Inc., visit ceii-cdc.org.
To view more photos, visit our Flickr page on Palafox Landing.