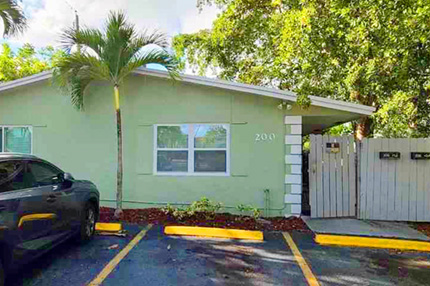 SOUTH REGION
$3.1 million FCLF financing (2 loans)
Acquisition and rehab loans
55 units of transitional housing
"From the first contact through closing, FCLF is the ultimate partner. Their mission-driven commitment and expertise provided the foundation for our nonprofit to acquire critical resources for homeless veterans in our community. Without their support, this vital resource would have been lost to Broward County. Our Loan Officer's responsiveness, dedication to community, and patience through every step made the difference. FCLF is much more than a financing entity. They are on the frontline protecting and building resources for the most vulnerable in our community and saving lives. Their values showed up in every point of contact." – Seth Eisenberg, President/CEO, Purpose Built Families Foundation
---
Purpose Built Families Foundation, dba Operation Sacred Trust, has provided housing and services for Veterans since 2015 in Miami-Dade and Broward Counties. The organization focuses on improving housing stability for low-income Veterans and their families, and with support from the Department of Veterans Affairs offers a wide range of services, including case management, financial planning, housing counseling, transportation, and child care. Temporary financial assistance is also available to stabilize families who are in danger of experiencing homelessness. Purpose Built helps end homelessness for more than 1,000 families.
With financing from Florida Community Loan Fund, Purpose Built purchased an existing transitional housing community in Fort Lauderdale. The community consists of 55 housing units across five buildings, 45 of which are set aside for Veterans and funded by a Grant and Per Diem (GPD) agreement with the VA. The project is located in a low-income area that is experiencing increases in housing costs due to gentrification. Financing through FCLF allows Purpose Built to keep these homes affordable.
Purchasing this facility to provide transitional housing is a natural extension of the range of support for the Veteran community that Purpose Built Families Foundation has delivered for many years. The organization has a long-standing relationship and daily coordination with leadership and personnel from local VA Healthcare and Homeless Veterans, and grant and per diem teams will also contribute to the successful management of the project.
FCLF received a Capital Magnet Fund (CMF) award from the Community Development Financial Institutions (CDFI) Fund, which allowed FCLF to offer more favorable terms to Purpose Built Families Foundation to further help the project be successful.