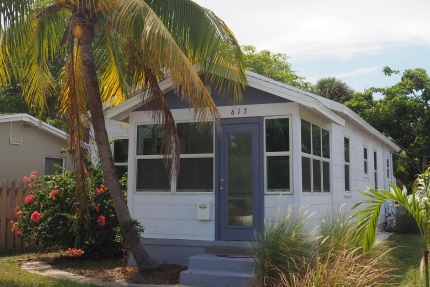 SOUTH REGION
$3.1 million FCLF financing
Line of credit to purchase & renovate foreclosed homes
20-30 homes per year
"Taking blight properties from abandonment to life is not as easy as it looks. A lot of communication, coordination and effort occur to make the "American Dream" of homeownership come true. Our partnership with the Florida Community Loan Fund makes the overall process simpler, alleviating us of the financial stress and capital needed to rehabilitate these blight properties." – Michael Roberts, Executive Director, R.E.A.C.H.
R.E.A.C.H. – or Real Estate Education and Community Housing – was founded in 2006 with a mission to inspire and motivate low to moderate income members of the community to reach for, and take, the necessary steps to achieve and sustain home ownership. The organization acquires foreclosed or donated properties, and renovates them to offer for sale to low-income families. At the same time, R.E.A.C.H. works with area families to offer education needed for home ownership – such as budget counseling and preventing foreclosure. When renovation is completed on a home, chances are good that R.E.A.C.H. will have worked with a family who is ready to purchase that home. As a HUD approved counseling agency, REACH has assisted 300 families over the last 4 years with homebuyer education and foreclosure prevention counseling.
With financing from Florida Community Loan Fund, R.E.A.C.H. will continue to acquire homes, renovate them, and sell them to qualified families. With a $3 million FCLF line of credit, R.E.A.C.H. anticipates it will rehab 12 to 20 homes per year; helping reduce the inventory of blighted and abandoned properties. These homes will be primarily in Palm Beach, Broward, and Miami-Dade Counties.
In 2018, REACH provided a 100% disabled veteran with a safe, affordable home – the first time this individual had been able to own a home. Read this story on FCLF website here.
"The impact of our partnership with R.E.A.C.H. is important, providing affordable housing and financial counseling for area families, and reducing the inventory of foreclosed and abandoned homes in Florida." – Nelson Black, FCLF Chief Lending Officer
Hear from R.E.A.C.H. Executive Director Michael Roberts and Veteran homeowner in this video: FCLF and R.E.A.C.H. Strengthening Communities in South Florida
Pictured above, a home that was renovated by R.E.A.C.H. Below, Executive Director Michael Roberts with homeowner.
View more photos in FCLF's Flickr album.