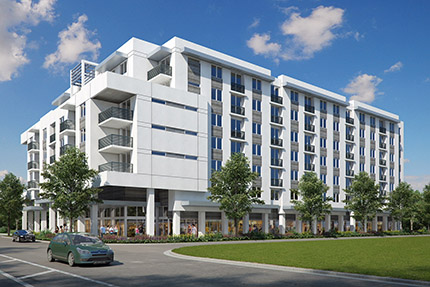 SOUTH REGION
$3 million FCLF financing
90 affordable multifamily rental homes
"Thanks in part to Florida Community Loan Fund's long-term senior loan, we're able to develop Silver Creek, a new, mixed-income, mixed-use community in Miami. This sustainable development will provide brand-new, fully-amenitized, and professionally managed homes for 90 families who might otherwise struggle to find safe and affordable housing." – Mitchell Rosenstein, Founder & Principal, Green Mills Group

---
South Florida is among the least affordable areas in the U.S. for renter households. A 2017 study shows that 63% of renter households in Miami-Dade, Broward, and Palm Beach Counties are cost burdened – spending more than 30% of income on rent. There is a great need for affordable rental housing.
Silver Creek Apartments will provide 90 affordable rental homes for families in Miami, with 81 units reserved for very low- and low-income households and the remainder available as workforce housing. Rent restriction agreements will maintain affordability of these apartments for at least 50 years, with monthly rent as low as $365 per month. Silver Creek will be built to certified green standards and include Energy Star-rated appliances, all of which help reduce costs for residents. In addition, the seven-story building will feature a game room, fitness center, and other amenities. The project is located close to public transportation – bus and metro rail – and area businesses, with easy access to downtown Miami, job centers, and three hospitals. The ground floor will also have retail space for lease.
Financing from Florida Community Loan Fund is providing a $3 million permanent loan for Silver Creek, a LIHTC (low-income housing tax credit) project that is being developed by Green Mills Group with a total cost of over $25 million. Additional financing is provided by TD Bank and Miami-Dade County. Tax credit equity is provided by the investor, TD Bank, through Raymond James Tax Credit Funds.
Learn more at www.greenmillsgroup.com and www.silvercreekmiami.com.
Pictured above, architectural rendering of the Silver Creek Apartments complex.