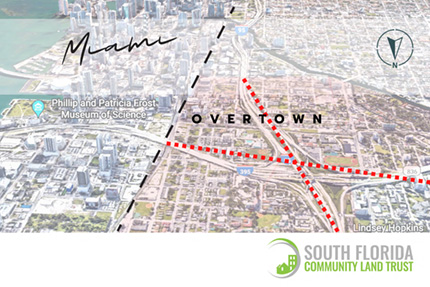 SOUTH REGION
$3.75 Million FCLF financing
Land acquisition loan
Proposed multifamily development to provide an estimated 200 units of affordable rental housing
"Overtown was divided from the rest of downtown, first by the railroad and later by major highway construction. This project gives us the opportunity to reconnect the community and rebuild the neighborhood for the residents. FCLF does more than finance deals; they make true community investments." − Mandy Bartle, SFCLT Executive Director
---
Miami's Overtown neighborhood is undergoing drastic changes, driven by its proximity to new development currently coming from the south and the east. As the neighborhood immediately north and west of downtown, it is experiencing the pressure sparked by the new Brightline train station and both market rate residential and commercial development. Additionally, significant residential development is occurring just east of the subject property that includes high-end residential developments that have historically only been developed along Miami's Biscayne Bay. However, Overtown's current population still consists of many lower income residents with nearly 50% of families reporting income below poverty.
With financing from Florida Community Loan Fund and equity from JP Morgan Chase's PRO Neighborhood Program, the South Florida Community Land Trust, a nonprofit housing developer, purchased half of a block in the heart of Overtown. Once a thriving street, the site has remained vacant for the last 30 years when homes and businesses were torn down to make way for I-95, and has been isolated from the urban fabric of the community ever since. SFCLT is committed to work with the community to once again create a vibrant corridor.
SFCLT is planning a multi-story, multifamily development on the property, providing approximately 200 affordable rental apartments in Miami's Overtown community. This census tract is 91% minority, and 49% of residents have income at or below the poverty level. As the neighborhood sees drastic change brought on my new nearby development, this project represents a significant opportunity for families in the area by providing affordable housing. Using the land trust model, units will remain permanently affordable.