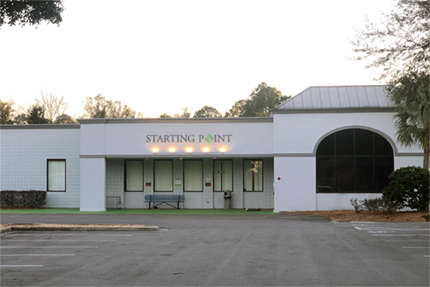 NORTHEAST REGION
5 FCLF LOANS totaling $2.5 million
Acquisition, rehabilitation, and hurricane recovery loans
3 buildings for healthcare services & administrative offices totaling 21,000 sq ft
---
"Healing begins here." This is the mission of Starting Point Behavioral Healthcare, located in Northeast Florida.
Starting Point Behavioral Healthcare is a nonprofit agency providing psychiatric treatment, mental health counseling and substance use disorder treatment. The organization has been serving Nassau County and the surrounding communities since 1992 and their goal is to provide a coordinated approach to care that meets the individual needs of the client and addresses the total behavioral health needs of the community. Through collaborative efforts with other health care providers, they have created a robust treatment approach that includes private clinicians, family service agencies, the legal system, schools, clergy and hospitals.
The team includes board-certified Psychiatrists, Psychiatric APRNs, Licensed Mental Health Counselors, Licensed Clinical Social Workers, Masters Level Certified Addiction Professionals, Certified Behavioral Health Targeted Case Managers, Certified Prevention Professionals, and Certified Peer Specialists all supported by financial and administrative staff.
Starting Point offers services at the main office on SR 200 in Yulee, as well as a center in Hilliard and another in Fernandina Beach. They also provide on-site services at Family Support Services, Department of Children and Families, Nassau County Detention Center, Juvenile Court, Mental Health Court, Nassau County public and private schools and in homes. More than 80% of Starting Point clients are low-income.
With a loan from FCLF, Starting Point purchased the building which houses the organization's administrative offices and a community based health center which they previously leased. The savings generated from acquisition of the building allowrf Starting Point to serve 200 additional clients annually and resultrf in 2 additional full-time permanent jobs.
A second FCLF loan helped Starting Point purchase a building in Fernandina Beach and relocate a drop-in center that provides mental health services to very low and low-income residents. Acquisition and relocation of the current drop-in clinic lowered operating costs for the organization. This location also includes unimproved land that can be used for a community garden, which is part of Starting Point's social rehab program. Subsequent FCLF loans have helped repair damages that were caused by Hurricane Irma, and rehabilitate the Starting Point facility in Hilliard, Florida.
Read more about FCLF and Starting Point Behavioral Healthcare in this success story.
View more photos of Starting Point Behavioral Healthcare on FCLF's Flickr Page.
For more information, visit www.spbh.org.