WEST REGION
FCLF LOAN $355,000
REHABILITATION LOAN
Renovation of 16 affordable apartment homes
"FCLF understands the changing issues and challenges that non-profit housing organizations face. We truly value FCLF as a partner in accomplishing our mission of service to the working families of our community." – Harold Sample, Executive Director, Workforce Housing Ventures
---
In San Antonio, Florida, located in East Pasco County, the Stonehenge Apartment complex provides affordable rental homes for low-income families. The apartment complex was in need of new roofs on all buildings, and repairs to the parking areas. Additionally, the complex owner had outstanding debt on extensive renovations that had recently been undertaken on the 5-building complex.
With a loan from FCLF, Workforce Housing Ventures, the owner at the time, was able to pay off the existing debt – at lower rates and extended terms – and complete the work needed on roofs and parking. These renovations have significantly improved living conditions at Stonehenge Apartments, and allow the rent on these 16 apartment homes to remain affordable for low-income families.
Since the original loan to Workforce Housing Ventures, the Stonehenge Apartment complex was purchased by Pasco County Housing Authority. The FCLF financing was transferred to the new owner, as part of our commitment to preserve affordable rental housing throughout Florida.
The lending team at Florida Community Loan Fund demonstrated the flexibility of their financing to create a new structure for this loan, with equal proceeds coming from two of FCLF's lending programs: the Community Development Fund and the Florida Preservation Fund. Drawing financing from the two lending programs enabled the loan to proceed with a low interest rate, maintaining the long-term viability of this affordable multi-family housing complex.
Since 1995, Workforce Housing Ventures has assisted in assuring the availability of decent, affordable housing to all persons, with a special emphasis on low- to moderate-income households in the workforce community.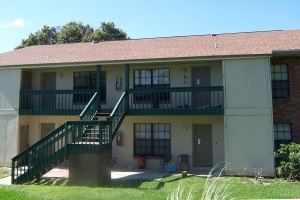 To view more photos, visit our Flickr page.