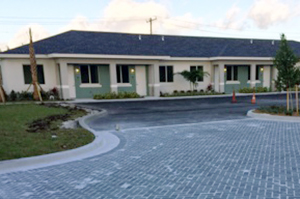 SOUTH REGION
$820,000 FCLF financing
Permanent Financing of 24 units of affordable housing for seniors
Florida is home to 3.3 million people age 65 and older. In Miami-Dade County, as in many areas in Florida, affordable housing for these seniors is increasingly harder to find. In Miami Gardens, in a neighborhood with a poverty rate of 35%, Urgent, Inc. is making an impact in the affordable housing shortage with The Commons Apartments.
Urgent, Inc., in partnership with the Related Companies, developed the project known as The Commons, in Miami Gardens. With permanent financing from Florida Community Loan Fund, Urgent, Inc. is becoming the sole owner. Urgent, Inc. was established in 1994 and since that time has focused its efforts on community development and working with youth in Miami, with an emphasis on Overtown, Little Haiti, Liberty City, and Goulds. Adding affordable senior housing at The Commons to their programs rounds out the organization's reach to many residents in these areas where 86% of households have income of $23,000 or less.
With the development of these 24 apartments at The Commons, Urgent, Inc. is helping keep rent affordable for seniors in an area that is experiencing continuing increases in housing costs. All apartments are one bedroom, and public transportation is easily accessible from its location. The City of Miami Gardens has been proactive in guiding and overseeing development in the area, with investments in road improvements, a new City Hall, and a new police station. Additional funds were provided by the City and Miami-Dade County.