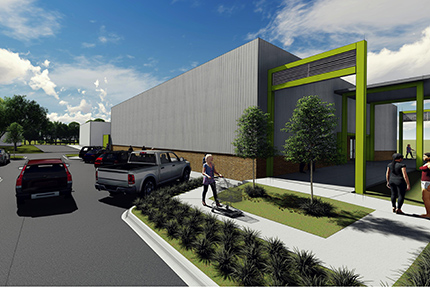 NORTHWEST REGION
$500,000 FCLF financing
Construction loan for economic development
8,000 sq ft commercial-retail space
"The funds and staff support from FCLF have allowed us to drive economic growth in Greenville. 150 of the 195 jobs have already been filled, with the remainder expected to be filled by year end!" – Lee Jones, Town of Greenville
---
The Town of Greenville, located in the Big Bend region of Florida's panhandle, was established in 1850 and incorporated in 1907. Today the Town has a population of 826, and covers an area of 1.3 square miles. The poverty rate is 53% (compared to the national average of 13%), and roughly 85% of the residents are African American. Due to a decline in population over recent years, area businesses and schools began to close. The current Town leadership recognized a need for economic development in order to help the Town of Greenville thrive and grow.
Town management created the Greenville 2.0 Economic Development Plan, designed to bring businesses – and much needed jobs – to the area. To date, the Town has completed construction of a new community center and fire station, the purchase of a fire truck, and improvements to the water and sewer infrastructure. As part of the plan, the Town is also partnering with the Florida Department of Economic Opportunity to conduct career and job training.
Financing from Florida Community Loan Fund will provide a construction loan to complete an 8,000 square-foot commercial building, which will include a grocery store operated by IGA/Fresh Communities, a branch of FAMU Federal Credit Union, and a pharmacy. The project is expected to provide 195 jobs, 66% of which will be filled by low-income individuals. In addition, the store brings a source for healthy, fresh foods to an estimated 1,000 customers. Many area residents do not own cars, and the new store will be a walkable destination in this area which has been designated as a Food Desert.
The grocery store, credit union, and pharmacy will be an integral part of the newly developing town square area. Nearby are the Town Hall, the new youth center, and Haffye Hays Park, which will soon receive infrastructure repairs through Florida DOT grant funding.
Pictured above, architectural rendering of completed project in the Town of Greenville. Below, construction progress in mid 2022.