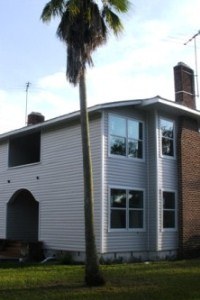 FCLF CENTRAL REGION
$7.3 MILLION FCLF LOANS
39 LOANS for Acquisition, Renovation, and Hurricane Repairs
300 Supportive Housing Beds
145 Temporary Construction Jobs

"TTHI and FCLF have a long history of successful loans. I could not ask for a friendlier or easier process to navigate. I truly believe without the support of FCLF, TTHI would not have been able to deliver the services our area so desperately needs. We are looking forward to a lifetime relationship with FCLF." – Tom Griffin, CEO, The Transition House, Inc.
The Transition House, Inc. (TTHI), headquartered in St. Cloud, provides long-term, high quality treatment to support substance abuse recovery and mental health services for Central Florida's most disenfranchised residents. TTHI's philosophy is that, through hard work and determination, clients will be able to mainstream back into society with renewed self-assuredness. TTHI operates programs for Veterans, Women Veterans with Dependent Children, and a Transition/Work Release Program for Florida Department of Corrections inmates. All programs offer eligible clients a place to stay for up to 24 months where a multitude of services are offered either in-house or nearby with transportation provided.
With 39 loans from FCLF between 1998 and 2017, totaling $7.3 million, the Transition House has acquired and/or renovated several homes and facilities in Osceola, Lake, and Seminole Counties, and repaired damages caused by Hurricane Irma in 2017.
Transition House first opened in 1993 with a 12 bed halfway house, and for 20+ years has provided case management, housing and supportive services, outpatient behavioral healthcare, and more. The organization has recently gone through the successful process of Joint Commission Accreditation. With a recent loan from FCLF, Transition House purchased 3 abandoned/deteriorating properties in a low income area of St. Cloud. After renovation, the buildings provided 12 one-bedroom apartments to veterans who find themselves without a place to call home. One of these houses (pictured above) was renovated to meet green standards. Another loan helped Transition House purchase a 4-plex that was converted into housing for homeless female veterans.
On another project, TTHI has purchased a 2-story home in a blighted neighborhood, which has been converted into supportive housing for 4 male veterans who could otherwise be homeless. The tenants themselves were employed during the renovation process, which included construction to green and sustainable standards.
Hear from Tom Griffin, CEO of The Transition House, in this video.
Read more about FCLF and The Transition House in this success story.
To view more photos, visit our Flickr page for the Transition House.