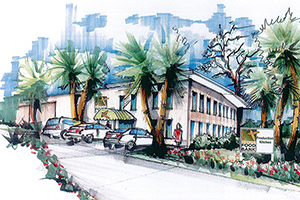 SOUTHEAST REGION
$1.6 million FCLF loan
Renovation of food bank prep & distribution center
10 million meals annually
45 on-the-job training positions
"The Florida Agriculture & Nourishment Collaborative, operated by Treasure Coast Food Bank, will invest revenue into our local agriculture industry, create jobs and job training, feed public school students, and provide food for those with limited access to fresh produce. This is a true public-private partnership and we thank FCLF for your financing." – Judith Cruz, CEO, Treasure Coast Food Bank
---
More than 100,000 people living on Florida's Treasure Coast do not know where their next meal is coming from. Treasure Coast Food Bank, located in Fort Pierce, Florida, works to solve the food-shortage problem by working with over 400 human service agencies to provide 45 million meals annually.
With financing from Florida Community Loan Fund, TCFB will renovate a 9,460 sq-ft facility that will be the home base for the organization's FANC, or Florida Agriculture & Nourishment Collaborative. Through the FANC program, Treasure Coast Food Bank will partner with 100 local farmers to purchase fresh fruit and vegetables that might otherwise spoil; the produce will be prepared for resale to 100 local schools and donation to 400 local human service agencies for distribution to 100,000 low-income residents in need weekly. In the first year alone of production at the new facility, an estimated 5 million pounds of produce will be processed, which translates into 10 million meals. This is in addition to 45 million meals annually already being provided through Treasure Coast Food Bank and its partners. Treasure Coast Food Bank will also boost employment in the area as well as offer culinary arts and food safety training to long-term unemployed adults.
This FCLF-financed project with Treasure Coast Food Bank will have multiple layers of social impact: it helps feed needy families in southeast Florida, provides local farmers with a point of sale for blemished or "ugly" produce, saves money for local school systems with the sale of locally-grown & processed fresh food, and gives TCFB a sustainable income source so the cycle can be repeated.
For more information visit Treasure Coast Food Bank's website, www.stophunger.org.
Pictured at top, architectural rendering of food production facility upon completion. Above, flow of produce through the FANC. Below, TFCB truck ready to deliver meals in the Treasure Coast.