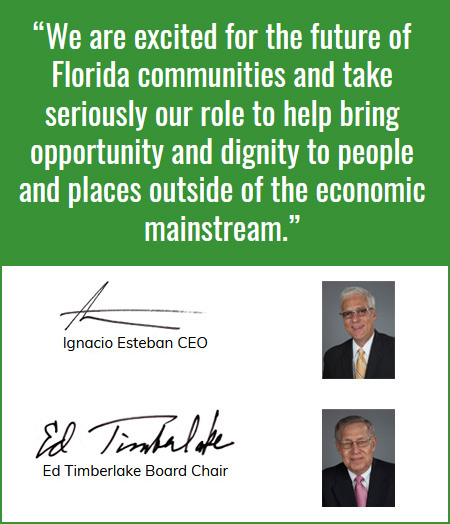 With our 2018 Annual Report, Florida Community Loan Fund is proud to highlight success stories that inspire our work in addressing Florida's community development needs: a Vietnam veteran who became a first time homeowner – teachers and first responders who will be able to afford high quality rental apartments – affordable healthcare will be delivered with dignity to vulnerable populations – and children and youth will have opportunities to reach their full potential. With a record $19.9 million in community development lending and an additional $28.6 million in financing through the New Markets Tax Credit Program, FCLF delivered $48.5 million in financing during fiscal year 2018. In addition, our quick response to the widespread damage caused by Hurricane Irma delivered critically needed, low-cost working capital to affected nonprofits across the state.
During the past year, we continued to build FCLF's foundation to ensure mission success in the future.
Total Assets grew 10% to $71.4 million and Total Net Assets increased 8.5% to $31.4 million.
We were once again successful in securing key Federal resources from CDFI Fund programs, including a $45 million New Markets Tax Credit Allocation and a combined $1.8 million in CDFI Financial Assistance and Healthy Food Financing Initiative awards.
We closed on $30 million in financing from the CDFI Bond Guarantee Program, which for the first time provides community development groups in Florida access to long term capital from FCLF.
We were selected by the State of Florida to run a demonstration Healthy Food Financing program.
And we won a prestigious national competition for CDFIs, the PRO Neighborhoods program sponsored by JP Morgan Chase, in collaboration with our partner New Jersey Community Capital.
Fiscal Year 2018 marked the end of a successful five year Strategic Plan and development of a new ambitious plan that will see FCLF significantly increase our impact in the state of Florida by delivering more capital in our existing lines of business and developing more ways to help capital flow to the communities we serve.
Thank you to our investors and supporters who have made these accomplishments possible. We are honored by your trust in our organization. We are excited for the future of Florida communities and take seriously our role to help bring opportunity and dignity to people and places outside of the economic mainstream. Your continued support will help make this vision a reality.
R.E.A.C.H.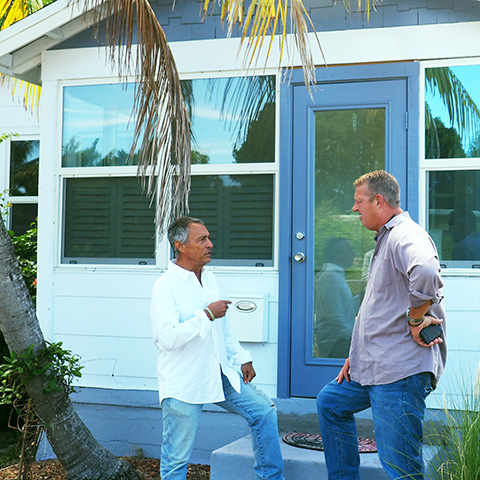 Strengthening communities through home ownership.
49% of Miami-Dade households

are severely cost burdened

R.E.A.C.H.

acquires and renovates 20-30 homes per year in 3 counties

FCLF $3 million financing

through a line of credit helps R.E.A.C.H. achieve its mission

600 annually

receive financial counseling and education services
"Our partnership with FCLF helps us take blighted properties from abandonment to life, helping the American Dream of homeownership come true." – Michael Roberts, Executive Director, R.E.A.C.H.
Strengthening communities with workforce rental housing.
70% of Palm Beach County renters

are cost burdened

36 affordable rental apartments

are being developed by Neighborhood Renaissance at Mango Cove

$4.8 million in FCLF financing

for land acquisition, construction, and permanent financing

$8.6 million

total project costs
"Our community residents struggle with lack of opportunity and finding a home they can afford. Our relationship with FCLF provides us the capital we need to achieve long-lasting impact." – Terri Murray, Executive Director, Neighborhood Renaissance
ORANGE BLOSSOM FAMILY HEALTH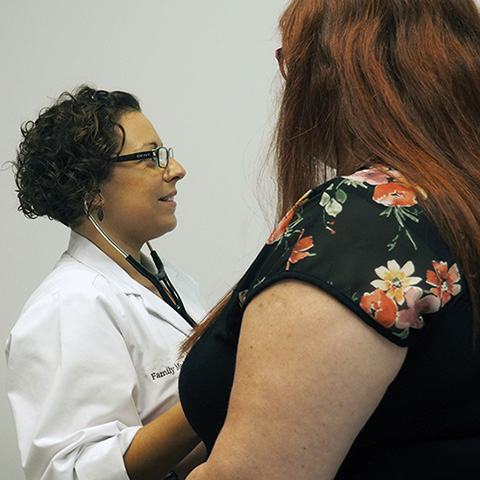 Strengthening communities with healthcare.
70% of patients at Orange Blossom Family Health

are uninsured, and 75% live below poverty level

11,600 square-foot new facility

will provide comprehensive healthcare for 5,000 annually in one of Orlando's most distressed communities

$6.1 million in NMTC financing + $2.2 million in FCLF community development financing

will make the new facility a reality and the project will create an estimated 133 jobs
"We provide quality healthcare for all community members regardless of financial situation. Partnering with FCLF allows us to build a facility that all will be proud of." – Bakari Burns, President & CEO, Orange Blossom Family Health
Strengthening communities through investing in youth and families.
47,500 square-foot facility in Bradenton

will double the capacity of a 50-year old building and serve 2,400 annually

75% of students are from low-income households

and benefit from programs including academic excellence, good character, and healthy lifestyles

$10.5 million in FCLF NMTC financing

will complete the new DeSoto Club and will create an estimated 200 jobs
"Thanks to FCLF's support, the children who need us most will benefit from a state-of-the art facility and be able to reach their full potential." – Dawn Stanhope, President & CEO, Boys & Girls Clubs of Manatee County
HURRICANE RECOVERY
Leading capital into communities to rebuild and become stronger.
$1.4 million in financing for Hurricane Recovery

in the aftermath of Hurricane Irma in 2017

16 loans

helped our borrowers recover, repair, and rebuild in order to accomplish success in their projects

Loans closed as quickly as 20 days

after Hurricane Irma, and the program remained available as additional damage was identified
In the aftermath of Florida's worst hurricane season in over a decade, FCLF provided Hurricane Recovery loans with a shortened application process, no interest and no payments for two years, and flexible terms.
Summary Statement of Financial Position
---
Summary Statement of Activities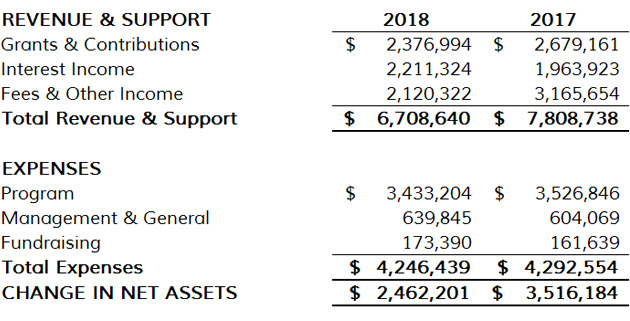 ---
Loan Portfolio by Sector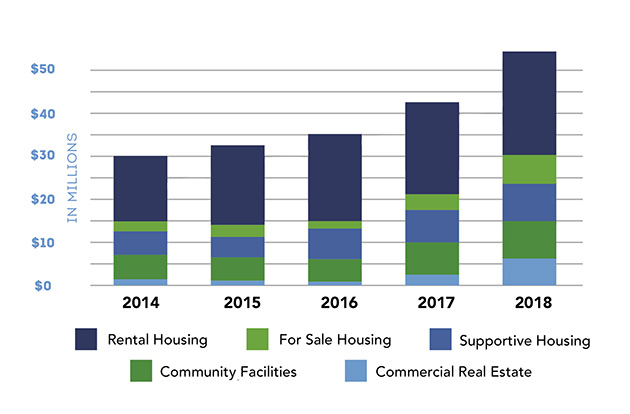 STRATEGIC PLAN 2019-2023
VISION: Opportunity and dignity exist for every person and community in Florida.
MISSION: Our expertise and capital make projects successful and help organizations improve lives and communities.
CORE PURPOSE: We exist to maximize opportunities for people and places outside of the economic mainstream.
GOAL I: Increase financing in existing lines of business.
GOAL II: Broaden and expand community development in Florida.
GOAL III: Lead through expertise and influence.
GOAL IV: Maintain and improve organizational strength and capacity.
Pictured at top, Orange Blossom Family Health Ivey Lane Facility construction progress, financed by FCLF • Hurricane Recovery photo © Will Vragovic/ Tampa Bay Times/ ZUMA Press