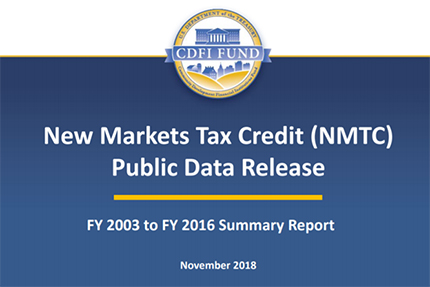 The U.S. Department of Treasury's Community Development Financial Institutions Fund (CDFI Fund) released a summary report and data collected on the New Markets Tax Credit (NMTC) Program through fiscal year 2016.
Through 14 application rounds of the NMTC Program, the CDFI Fund has made 1,105 awards, allocating a total of $54 billion in tax credit authority to CDEs through a competitive application process. Since the NMTC program's inception, the CDFI Fund has allocated tax credit authority to 413 Community Development Entities (CDEs) headquartered in 45 states, the District of Columbia, Puerto Rico and Guam.
Highlights of the report include:
nearly 69 percent of NMTC investments made through 2016 have been concentrated in single/mixed-use real estate, health care and social assistance, manufacturing, and educational services
the extent that CDEs go beyond the minimum statutory distress requirements of the NMTC Program by committing to serve areas of higher distress, rural areas or targeted populations
that CDEs leverage the NMTC to offer financing with flexible or non-traditional rates and terms
Florida Community Loan Fund has been certified as a CDE (Community Development Entity) by the CDFI Fund since 2003 and has been an active participant in the NMTC program, with allocation awards totaling $316 million. Examples of FCLF NMTC projects that bring jobs, economic development, and needed services to distressed communities include:
Boys & Girls Clubs of Manatee County, building a new facility to reach 2,400 children and youth annually with programs focusing on academic excellence, good character and citizenship, and healthy lifestyles. Learn more here.
Central Florida Health Care, expanding a system of full service Federally Qualified Health Care locations in rural Florida with a focus on low-income and uninsured individuals and reaching 30,000 annually. Learn more here.
Armature Works, restoring a historic building in Tampa that provides 750+ jobs while providing space for access to healthy foods and encouraging local businesses with affordable retail and office space. Learn more here.
Learn more about Florida Community Loan Fund's NMTC Program here.
Read the press release from the CDFI Fund, December 18, 2018.