Award will finance affordable rental housing and access to healthy foods in Florida's low-income communities
Orlando, Florida (Sept. 26, 2017) – Florida Community Loan Fund (FCLF), a statewide source of flexible financing for community and economic development, announced it has been awarded $1.8 million by the U.S. Department of Treasury Community Development Financial Institutions (CDFI) Fund. The award comprises a Financial Assistance Award of $776,500, and a Healthy Food Financing Initiative Award of $1 million.
The CDFI Award is part of FCLF's strategy to bring long-term capital to underserved neighborhoods, a strategy which includes a pending application to the CDFI Fund for the Bond Guarantee Program. These awards will bring capital resources to Florida low-income communities.
"The needs in Florida's low-income communities remain high, particularly in the areas of affordable rental housing and access to fresh foods," said FCLF CEO Ignacio Esteban. "The CDFI award will exclusively benefit those Floridians who suffer the consequences of these deficiencies."
FCLF's Financial Assistance Award will finance affordable rental housing and community facilities, including those offering healthcare, education and services for special needs populations. FCLF can help alleviate Florida's shortage of affordable rental housing where 70 percent of renter households pay more than 50 percent of income on rent.
FCLF was the only recipient of a Healthy Food Financing Initiative Award in Florida. The award expands FCLF's program to provide access to fresh, healthy foods in food deserts. Florida's low-income populations suffer from above average obesity and diabetes rates – conditions that can be improved with increased food access.
Examples of FCLF financing for affordable rental housing and food access include:
• City View Apartments, Miami, offering 66 fully furnished apartments to low-income households with a focus on formerly homeless.
• Treasure Coast Food Bank, Fort Pierce, processing fresh produce and vegetables from local farmers and distributing it to local schools and food banks.
The total of CDFI Fund Awards nationally was $208.7 million to 303 CDFIs, the largest pool of awardees in CDFI fund history. Over 430 applications were received for this competitive process. FCLF's FA Award was 1 of 13 in Florida, and FCLF was the only recipient of an HFFI Award in Florida.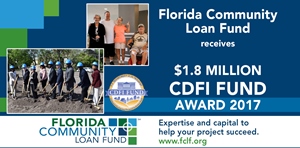 About Florida Community Loan Fund Florida Community Loan Fund is a nonprofit, multifaceted financing entity with a 20+ year history of providing flexible capital and expertise to low income communities across Florida. FCLF is nationally recognized for its work as a certified CDFI and CDE through the U.S. Dept. of Treasury and as a member of the Federal Home Loan Bank of Atlanta. FCLF has financed $306 million through 275 loans in Florida, making possible $912 million in new investments in low-income communities.
---
Media Contacts: Janet de Guehery, This email address is being protected from spambots. You need JavaScript enabled to view it., (407) 246-0846 or Lisa Junkerman, This email address is being protected from spambots. You need JavaScript enabled to view it., (407) 252-3983
Twitter: @FCLFOrg