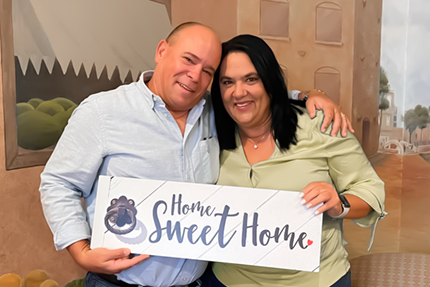 The following is a guest post from Housing and Education Alliance. FCLF provided HEA with financing through a line of credit to purchase and renovate homes for sale to low- and moderate-income households. Learn more about FCLF and Housing and Education Alliance here.
---
Sergio and Celia's Story
They started their life in Cuba, where they were boyfriend and girlfriend in their youth. Their lives took different paths when they both married other people and immigrated to the U.S. in search of the American dream at different times.
In time, both divorced and later ran into each other in Miami, where they started dating and later married.
When Sergio came to the U.S. he was 43 years old; he had been a doctor in Cuba, but had to attend medical school all over again in order to practice medicine here. He worked in a VA mental hospital in Miami by night and attended medical school during the day. Celia worked two jobs to make sure he could continue his studies. I am not sure when he was able to sleep, but after years of sacrifice and study he became a doctor in the U.S. at the age of 59.
He has now reached his goal of not only becoming a doctor in the U.S., but also of owning a home in America. The couple just closed on the first home they have ever owned. Sergio and Celia worked with Housing and Education Alliance to find a home and complete the purchase process. Congratulations Sergio and Celia!
Sergio and Celia's dream could not have been possible without the help of Florida Community Loan Fund, who supports HEA in our mission to create more affordable housing in Florida.
Thank you FCLF from Sergio, Celia and HEA!
heausa.org

Pictured above, Sergio and Celia in their new home. Below, with Sylvia Alvarez of Housing and Education Alliance and Rick Califano of Regions Bank, and in front of their new home.