The following is a guest post from R.E.A.C.H. Learn more about FCLF and R.E.A.C.H. here.
---
Florida Community Loan Fund and Real Estate Education and Community Housing, Inc. (R.E.A.C.H.)
Helping front-line medical workers achieve home ownership.
At Real Estate Education and Community Housing, Inc. (R.E.A.C.H.) we are pleased to have access to financing through a line of credit from Florida Community Loan Fund (FCLF) that enables us to purchase and hold properties for first-time homebuyers offered through the National Community Stabilization Trust (NCST) and the Fannie Mae Home Program (FNMA). Having a credit line with FCLF, R.E.A.C.H. can purchase homes quickly, reducing the investor opportunity and keeping homes affordable. Investor cash is often available more quickly than first time homebuyers. Therefore, balancing the opportunity for the purchase is achieved, and this helps bring stability to the new homeowner and the community.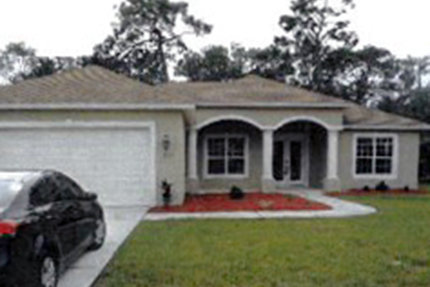 Weeki Wachee
R.E.A.C.H. was offered a home in Weeki Wachee, Florida, through NCST. This attractive 2000-plus square foot home needed some minor repairs and had a landscaping issue. R.E.A.C.H. purchased it with affordable homeownership and stability in view.
Not long after purchase R.E.A.C.H. received the following letter along with a contract offer from a potential buyer.
March 2020
Hello! In just a few weeks I will be graduating medical school and becoming the first physician in my family. I will be doing my four-year residency training to become an anesthesiologist.
I have absolutely fallen in love with your home and think it would be perfect for me during my time as a resident physician. This will be the first home I have ever purchased.
I have independently put myself through school and am quite fortunate there are loans available to young physicians in order to purchase a home. I ask that you please consider my offer, in part knowing that I have been a full-time student for the past ten years while studying to become a doctor.
With the COVID-19 outbreak, there ls a strong likelihood my services will be needed sooner. I am hoping to move to the area as soon as possible in order to help the elderly patient population in the area combat the virus, as it is an extremely vulnerable community. I hope to do so while living in your beautiful home.
Again, I want to compliment you on your lovely home and I promise I will take wonderful care of it as well as make some lifelong memories there.
Please stay safe and well! Very Sincerely,
Olivia
This offer was made by a first responder and closed quickly under a special doctor's program offered by Regions Bank. Olivia (last name omitted for privacy) is a first responder serving at a local hospital. As the letter reveals, she is a hard-working young lady, trained and ready to serve her community. Florida Community Loan Fund assisted R.E.A.C.H. in making this medical professional's dream come true.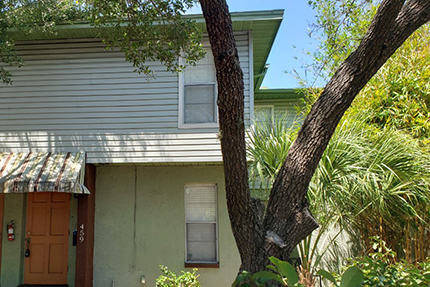 St. Petersburg
Not long after this transaction, another young medical resident, Kyle (last name omitted for privacy), moved to the area to help through the pandemic. He purchased another of the affordable homes that was offered to R.E.A.C.H.through NCST and was also financed though FCLF.
This home is located in St Petersburg, Florida, in a wonderful, safe area near the water and within walking distance of all shops and hotels. Again, Regions Bank offered the resident a loan for this small condo. At closing, Kyle wanted to know how he was able to buy after losing so many properties to others. R.E.A.C.H. was able to tell the story of our support through NCST, FNMA, and FCLF.
R.E.A.C.H. has been able to help these two individuals on the front lines of the medical pandemic due to the partnership with Florida Community Loan Fund. It is so important to be able to receive site control and the ability to limit the purchase to first time homebuyers – which creates stability in a neighborhood of previously foreclosed upon homes.
R.E.A.C.H.
www.reach4housing.org
8409 N. Military Trail, Suite 112
Palm Beach Gardens, FL 33410