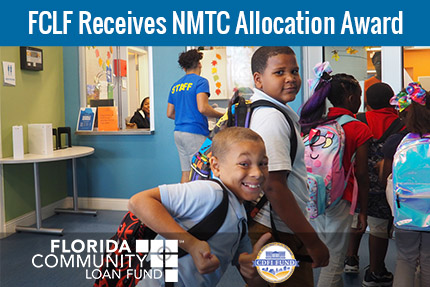 Florida Community Loan Fund is pleased to announce it has been awarded $60 million New Markets Tax Credit Allocation award from the U.S. Department of Treasury's Community Development Financial Institutions (CDFI) Fund. FCLF has received a total of 11 awards from the NMTC program, aggregating to $451 million.
Florida has the 5th highest number of low-wage jobs in the U.S., with wages 12% lower than the average. As a Florida-based and Florida-focused lending institution, FCLF has successfully delivered previous NMTC awards to nonprofit projects that deliver high impact to low-income residents and communities. This NMTC award will continue to focus on high-impact community facility projects providing jobs and support services in highly distressed census tracts.
"FCLF is pleased to receive this 2022 allocation. The NMTC program is a proven way to mobilize capital to address the needs of the disadvantaged and minority communities we serve throughout Florida. This allocation will enable FCLF to focus on funding that supports accessible job creation, affordable healthcare access, and the significant growth in demand for opportunities for disadvantaged youth." – Ignacio Esteban, FCLF CEO
"Receipt of this year's award is another validation of the work we have done around the state to support communities and families in need. But, it's also a reminder that in Florida there remains a tremendous unfilled need for projects that will provide real impact and real solutions for our communities, our neighborhoods and our people." – Nelson Black, FCLF Chief Lending Officer
FCLF has a history of deploying NMTC allocation to high-performing nonprofits in low-income communities. Examples include:
Feeding Northeast Florida (Jacksonville). Purchase and rehabilitation of a 120,000 sq-ft facility to address food insecurity, reaching an estimated 350,000 annually with 135+ jobs supported.

Evara Health (Clearwater). FCLF and Evara have completed two NMTC transactions. The most recent is construction of a new 18,000 sq-ft facility and a 5,600 sq-ft expansion of an existing facility to provide healthcare through an FQHC, with an estimated reach of 59,000+ annually and 85+ jobs supported.

Agape Village Health Center (Miami). Construction of a new 39,000 sq-ft facility providing behavioral healthcare and related services, reaching an estimated 11,500 annually with 380 jobs supported.
The New Markets Tax Credit was enacted in 2000 in an effort to stimulate private investment and economic growth in low-income urban neighborhoods and rural communities that lack access to capital needed to support and grow businesses, create jobs, and sustain healthy local economies. The NMTC is a 39 percent federal tax credit, taken over seven years, on investments made in economically distressed communities. In 2022 alone, the NMTC program funded 297 projects supporting $6.7 billion in total capital investments and over 52,800 full time equivalent jobs.
Media Contact: Janet de Guehery, This email address is being protected from spambots. You need JavaScript enabled to view it.
Find us on LinkedIn: FloridaCommunityLoanFund
To view the press release on PRNewswire, click here.
About Florida Community Loan Fund. Florida Community Loan Fund is a nonprofit, multifaceted financing entity with a 28-year history of providing flexible capital and expertise to nonprofit and mission-aligned for-profit entities that benefit people and places outside the economic mainstream across Florida. FCLF is nationally recognized for its work as a certified CDFI and CDE through the U.S. Dept. of Treasury and as a member of the Federal Home Loan Bank of Atlanta. www.fclf.org
To learn more about these FCLF projects that were financed through the NMTC Program, click on the images below: