Neighborhood Renaissance is developing 36 apartment homes in West Palm Beach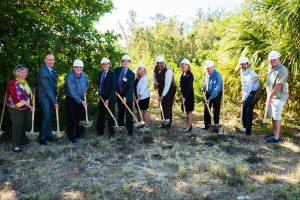 Neighborhood Renaissance recently hosted a groundbreaking for the Mango Cove Apartments in West Palm Beach. The 36 apartments will be rented well below market rate and will be within the financial reach of low- and moderate-income essential workers such as teachers, first responders, and health workers.
In 2004 an existing apartment complex on the site was destroyed by hurricanes. Since that time the vacant site has been an eyesore to the surrounding neighborhoods. The new Mango Cove will replace the lost housing with new, energy-efficient, affordable homes that will remain affordable through a 30-year deed restriction enforced by Palm Beach County.
Florida Community Loan Fund is providing $3.8 million in financing for the Mango Cove $8.2 million project. Additional financing is provided by other public and private sources.
At the groundbreaking, Palm Beach County Mayor Paulette Burdick praised the project's affordability, emphasizing the need for "rents that are within the financial reach of working families who struggle to pay for basic necessities such as food, healthcare, and transportation."
Learn more about Mango Cove on the Neighborhood Renaissance website.
Learn more about FCLF and Neighborhood Renaissance here.
Photo courtesy of Neighborhood Renaissance. Pictured, L to R: NR Board Member Bette Anne Starke, Florida Community Loan Fund Jim Walker, Dan Liftman aide to Congressman Alcee Hastings, Wells Fargo Regional President David Williams, NR Chair Carl A. Flick, Terri Murray, PBC Director Housing & Economic Sustainability Jonathan Brown, PBC Mayor Paulette Burdick, Southeast Architectural Services Larry Kramer, Michael Pecar, NR Board Member Tim Coppage.