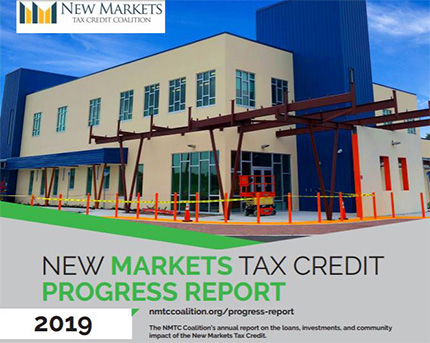 The New Markets Tax Credit Coalition has released its 2019 NMTC Progress Report, providing analysis of NMTC activities across the U.S. The report documents the importance of the NMTC in providing patient, flexible capital to businesses and projects located in distressed rural and urban communities, thereby creating jobs and growing business opportunities.
The New Markets Tax Credit (NMTC) Program was created by Congress to encourage the flow of investments into low-income communities. Since inception in 2003, NMTC has delivered $95 billion in capital, creating or retaining more than 1 million jobs. NMTC project investments generally serve communities exhibiting severe economic distress, including unemployment rates of more than 1.5 times the national average, poverty rates of 30% or more, or areas where household income is at or below 60% of AMI. NMTC is currently authorized by Congress through December 2019.
Florida Community Loan Fund (FCLF) has secured a cumulative total of $316 million in New Markets Tax Credits allocation and continues to be the only Florida-based recipient with a significant track record in sourcing and closing NMTC transactions. FCLF uses NMTC to support locally determined, high priority, large scale projects of measurable economic and social benefit.
This year's NMTC Progress Report features Boys & Girls Clubs of Manatee County new DeSoto Club facility on the cover and as a featured story, financed through Florida Community Loan Fund and the New Markets Tax Credit program. The DeSoto Club will reach an estimated 2,400 youth and children each year with a focus on academic excellence, good character and citizenship, and healthy lifestyles. Learn more about the DeSoto Club in this story and in this video.
Learn more about the 2019 NMTC Progress Report here.
Download the full report here.