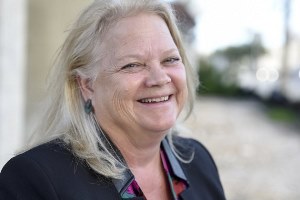 Terri Murray, Executive Director of Neighborhood Renaissance, was recently interviewed by the Palm Beach Post. Neighborhood Renaissance is a nonprofit organization based in West Palm Beach, established in 1992 to build and support strong communities by creating opportunities for workforce housing, jobs, and small business.
Florida Community Loan Fund has partnered with Neighborhood Renaissance since 2003, providing financing through 16 loans for a total of $7.3 million in loans to improve low-income communities. Read more about FCLF & Neighborhood Renaissance here.
Below is the text from a recent interview of Terri Murray by the Palm Beach Post. The full article can be viewed here.
Photo: Terri Murray, executive director of affordable housing nonprofit Neighborhood Renaissance, at the construction site of the Lake Worth Art Lofts in Lake Worth. (Andres Leiva / The Palm Beach Post)
---
Developer of affordable housing enjoys "heart-warming reward"
By Jeff Ostrowski - Palm Beach Post Staff Writer
As head of Neighborhood Renaissance, Terri Murray strives to build homes that are affordable to Palm Beach County workers. The nonprofit developer is building 36 apartments in an unincorporated area near Forest Hill Boulevard and Interstate 95. They'll rent for $1,200 a month, a low price tag for new units. And Neighborhood Renaissance recently completed a house in downtown Lake Worth that a middle-income couple bought for $190,000 — a price point where houses are scarce.
"There wasn't a whole lot at $190,000 that met their needs," Murray says. "We're trying to provide homes at a price range that the market's not addressing."
Few new houses are being built in Palm Beach County for less than $300,000, and affordability is being squeezed by the combination of stagnant wages, rising home prices and tight inventories. The median price of houses and condos sold in Palm Beach County in the third quarter was $245,000, and just 57.8 percent of homes sold were in reach of a family making the area's median of $67,900, according to the National Association of Home Builders' affordability index.
From finding sites to navigating the construction process, developing affordable homes requires "a lot of brain damage," Murray says. The payoff comes when someone who's struggling financially secures a stable home.
"It's a heart-warming reward for what you do," she says.
Hometown: Kansas City, Mo. We live in Boca Raton now.
First job: Waiting tables in a local Pizza Hut. My first jobs were horrible – and they really taught me how hard people work in the service sector. They were fine for a teenager who needed some spending money and to save some money for school, but they motivated me to finish college.
About your organization: Neighborhood Renaissance has been around since 1992 as a community-based developer. We're dedicated to creating strong communities by building homes that are in financial reach of low- and moderate-income persons and working families. Our annual budget is about $1.5 million, and we employ a professional full-time staff of five to six. What makes us unique is our volunteer board of directors. These are volunteers who are dedicated to the community. In the last five years, we've invested around $24 million in neighborhoods we've been working in. We have helped 145 families become first-time homebuyers. We have built or rehab-gutted 150 homes. We also manage 64 rental units. They're primarily scattered sites.
Biggest challenge: Resources – local, state, federal. We have an enormous housing need, and there is just not adequate resources to address the problem. Government is getting out of supporting affordable housing. On the state level, they raid the affordable housing trust fund. And people are conditioned that if they hear the term 'affordable housing,' they think, 'Oh, that's not going to be a good person living next to me.'"
Is Palm Beach County in an affordable housing crisis? That word is relative, but for low- and moderate-income families, it's a crisis. In Palm Beach County, 80 percent of renters can't afford the median rent, based on the rule of devoting 30 percent of your income to housing. If you're a low- to moderate-income family and you're struggling, you're really just a paycheck away from being homeless. It sounds like a crisis to me.
Best business advice you've received: Don't go it alone. Partnerships are critical. It's true. We can't do what we do without good partnerships with government, with business. Governmental partnerships are very important in our business. We're partnering with the city of West Palm Beach to target neighborhoods in the north end of the city. We're also partnering with the city of Lake Worth and Palm Beach County. Since 2016, my peers in other nonprofits have been meeting and talking with one another. We call ourselves the Palm Beach County Nonprofit Developer Forum. Collectively, you can have more impact than if everybody's in their own little silo.
Best business book you've read: I have an eclectic reading list, and I don't read a lot of business books. But I'm a real fan of Jane Jacobs, who wrote classics like The Death and Life of Great American Cities and The Economy of Cities.
Most important trait you look for when hiring: That the person is good at what they do, knowledgeable, has expertise, but also that they believe in the mission.
What you see ahead for Palm Beach County: Wages do not match the inventory. Unless a lot of units are added that are in the price point that is affordable to low- and moderate-income buyers, it's going to continue to get worse.