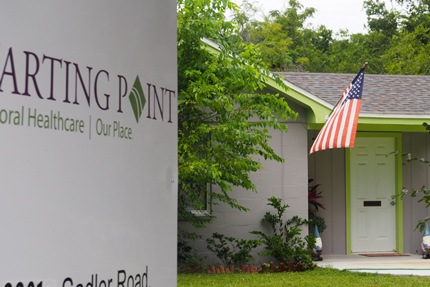 Starting Point Behavioral Healthcare (SPBH) has served Nassau County and the surrounding communities in Northeast Florida since 1992. The nonprofit behavioral healthcare organization provides psychiatric, mental health and substance use disorder treatment services, emergency services, and community education and awareness. Despite COVID-19, in 2020, SPBH served 3,965 clients, and provided over $400,000 in charity care. SPBH offers a coordinated approach to meet the individual needs of each client and addresses the total behavioral health needs of the community. Starting Point Behavioral Healthcare's motto is "Healing Begins Here."
Florida Community Loan Fund has provided $2.5 million in financing to SPBH for property acquisition, renovations, and hurricane damage repairs. Learn more about our partnership here.
While COVID-19 caused many disruptions, SPBH found ways to quickly respond to these challenges and continue serving its community. From expanding telehealth options and ensuring client access to technology to redesigning office space to create partitioned rooms for clients, SPBH strives to balance and manage high anxiety levels for clients and staff through the pandemic ups and downs. As they continue their important work, SPBH has shared many client stories of healing on their website. Below we share two of these stories.
Pictured above: a Starting Point Behavioral Healthcare drop-in center, acquired with FCLF financing. Below, SPBH mobile response team and mental health first aid graduates.
---
Elliott overcomes behavioral health challenges and is now a business owner.
It was 2002, and Elliot just moved to Nassau County from Philadelphia. After years of drugs, drinking and hospitalizations for suicide attempts, he made the decision to stop drinking. His first AA meeting was in a building across the street from Sutton Place (now Starting Point Behavioral Healthcare) and that is where he met Katrina Robinson-Wheeler, Starting Point's Community Liaison and Trainer. Today, Elliot is a small business owner, a yoga instructor, life coach and a drummer. He is working toward becoming a professional speaker because he wants to share his life lessons with those who might be struggling with similar issues. His first public speaking engagement is scheduled in the near future and his subject will be 'finding the beauty in the ordinary.'
"I want to do something that is going to help somebody, I've come a long way. I re-learn over and over again that nothing outside of myself is going to make me happy. Of course, there are still times of challenge. But I do the best I can, and I'm ok with that."
Jason recovers from threats of suicide and advises others to seek help.
Finding their son in a life-or-death crisis was a shock to Jason's parents. Just 16, Jason seemed fine, even happy, during the vacation they had just returned from the day before. So imagine their distress when they received a call that he was threatening suicide. Starting Point's Mobile Response Team was called out by police responding to the emergency. The mental health professional on duty arrived to assess the situation, and along with his parents made a plan for the beginning of a transition in Jason's life. After a brief hospitalization, Jason returned home and began a therapy program – meeting with his Starting Point counselor weekly at first, and now monthly. Jason says the biggest change he recognized is that he has become more aware of his feelings and how they affect him, and he has learned he can take action to cope with those feelings, instead of reacting. Jason's dad says the family has learned a great deal about communicating with one another. Jason said his advice to friends in a similar situation is simple: open up to others.
"It was one of the first times I ever felt comfortable sharing how I was feeling. I was able to open up, and I feel like it definitely got me the help I needed. Open up to others, even if it's hard, even if you don't want to. Everything gets so much better when you are accepting help. Don't just stay in your own head, you really do need to get help."