PROVIDING STABILITY TO EAST TAMPA NEIGHBORHOODS FOR 25 YEARS, BUILDING HOMES AND STABLE FUTURES FOR LOW-INCOME FAMILIES.
27%
of Tampa renters are severely cost burdened, spending more than 50% of income on housing
"The passion and tenacity of CDC of Tampa, coupled with the capacity and capital of FCLF, is transforming communities and driving economic prosperity." - Ernest Coney, CEO, CDC of Tampa
A safe home is the foundation for a solid beginning, whether as a child's first circle of influence or where one awakes each morning to start a new day. For residents in East Tampa's lowest income neighborhoods, securing housing is one of many obstacles these families encounter in everyday left. Securing quality, affordable housing is an even harder reach. The shortage of affordable housing is a pressing need – with 27% of area renters severely cost burdened, spending more than 50% of income on rent – but the community has also been plagued by high rates of unemployment, high school dropout, and crime, and has lacked resources to break cycles of intergenerational poverty.
Founded in 1992 to alleviate poverty and the physical deterioration in East Tampa, the Corporation to Develop Communities of Tampa (CDC of Tampa) has been a steady influence in the community ever since. FCLF is a trusted partner and source of capital for long-time borrower CDC of Tampa, providing 7 loans since 1999. Our commitments support the organization as it continues to increase the supply of quality homes while also expanding its work in new directions to counter other symptoms of poverty and severe cost burden. CDC of Tampa's specialized programs are reducing incidence of crime, providing job training, mentoring area youth, and educating residents on healthy financial practices.
Through our most recent $2 million loan, CDC of Tampa and New Vision Communities will create Gardens at Diana Point. Hillsborough County has shown its commitment for the multifamily community through an investment of $3.5 million in HOME and SHIP funding. Its central location to transportation routes, grocery stores, medical facilities, and a nearby park makes everyday essentials accessible, and the 24 new families will spur activity for existing businesses and catalyze additional growth in the future. Gardens at Diana Point's green money-saving features and lush landscaping visually enhance the neighborhood, instilling pride in the shared community. The new apartments will maintain affordability for at least 20 years, creating stable and affordable places for families to call home.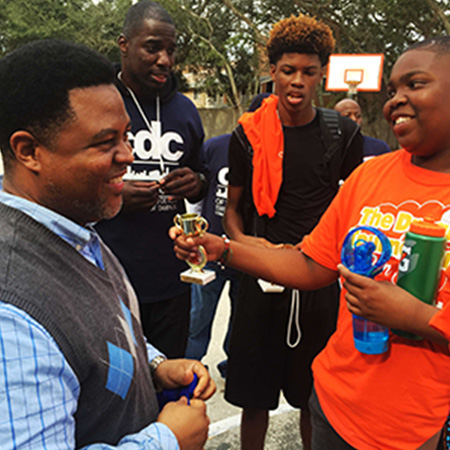 CDC OF TAMPA
Seven FCLF Loans totaling $3.3 million since 1999
Gardens at Diana Point, $5.7 million project, $2 million FCLF financing, 24 affordable rental homes
Hillsborough County provided additional funding and improvements to nearby park