RENOVATING A HISTORIC TRAIN STATION BUILDING INTO A TECHNOLOGY HUB, BRINGING STABILITY TO A LOW-INCOME FORT MYERS NEIGHBORHOOD.
4,593
jobs have been created by FCLF's NMTC Program, and more than 156,000 Floridians are reached annually with services through these projects
"Just like the original railroad, this space will bring people together. A neighborhood that has been struggling will be transformed, and nonprofits will collaborate in new ways." - Sarah Owen, President & CEO, SW Florida Community Foundation
At the height of railways' influence on economic development, the Atlantic Coast Line Railway depot, a 1920s Spanish mission-style building, was Fort Myers' epicenter and link to people and community. Disconnected from its vibrant past, the last train left the depot in 1971. In the following years, this historical building housed a variety of businesses, but eventually sat vacant.
As a committed partner in building capacity for the whole, one piece at a time, Southwest Florida Community Foundation lays the groundwork for future growth by creating new spaces for collaboration to flourish. With this goal in mind, the Foundation saw a way to connect old rail to new technology.
Converging the needs and interests of its communities, the Foundation has a vision for the vacant depot in Midtown Fort Myers. With FCLF financing through the New Markets Tax Credit Program, the Foundation will transform the space by merging the historic significance and essence of the railway's past with an infusion of new technology and innovative partnerships. Renovation of the existing building and a 10,000-square-foot addition catalyzes the revival of one of the city's most economically distressed multi-block areas. The resulting project, to be known as the Collaboratory, will house the Foundation's office and provide below market rental space on a sliding scale for its social interest collaborators. These 10 co-located nonprofits bring professional jobs into Midtown, which then provide technology and skills development training for over 500 low-income Midtown residents, incubating the next generation of the city's innovators. The City of Fort Myers is also investing in the neighborhood through infrastructure and improved streetscapes, working with the Foundation to stabilize and restore Midtown into a vibrant community, attracting new businesses and residents.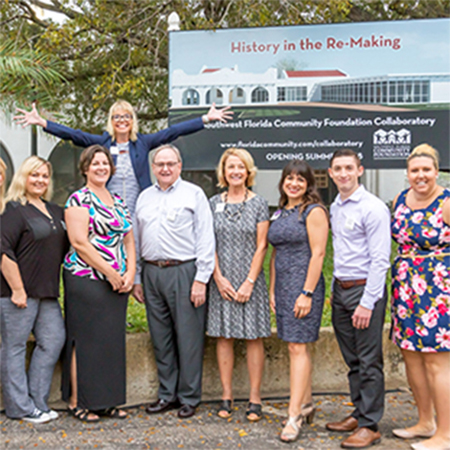 SW FLORIDA COLLABORATORY
$10 million total project, financed through NMTC
$10 million federal NMTC provided by FCLF
500+ local residents served through 10 area nonprofits on-site
282 temporary and 56 permanent jobs created or retained