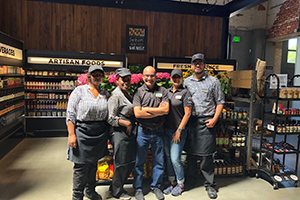 This month's blog post from Armature Works features the local business Inside The Box. Both of these projects were made possible through the New Markets Tax Credit Program, which provided financing for renovation and new construction, and brings jobs and essential social services to low-income neighborhoods. Florida Community Loan Fund (FCLF) is proud to have been a partner in both of these high-impact Tampa area projects through our NMTC Program. The joining of these two NMTC developments in one location is a prime example of the tangible local impact that the New Markets Tax Credit Program can have in a neighborhood.
In the Riverfront District of Tampa Heights the Armature Works building was once the storage and maintenance facility for Tampa's streetcars. In 2017, using financing provided by the New Markets Tax Credit, or NMTC, Program, Armature Works was renovated and redeveloped into a mixed-use building that breathes new life into the neighborhood. Included in the building is the Heights Public Market, a 22,000 sq ft open floor plan space featuring local restaurants, top chefs, workshops and classes.
One of the local businesses located in The Heights Public Market is Inside The Box. Created as a social enterprise of Metropolitan Ministries in Tampa, Inside The Box offers culinary training and life experience to residents of Metropolitan Ministries, largely formerly homeless individuals.
In 2013 and 2014, Florida Community Loan Fund was a partner with Metropolitan Ministries MiraclePlace (Phase I and Phase II), financed through FCLF's NMTC Program. Metropolitan Ministries helps men and women transition out of homelessness by providing housing, job training, counseling, child care, and other services. Their culinary training, through Inside The Box and on-site commercial kitchens, is one way to serve formerly homeless individuals by providing them with training and the opportunity for self-sufficiency.
Read the blog post from Armature Works here that features Inside The BoxRead the blog post from Armature Works here that features Inside The Box, or scroll down to read the text from the blog.
Learn more about FCLF and Armature Works here.
Learn more about FCLF and Metropolitan Ministries here (Phase I) and here (Phase II)
Pictured above: Inside The Box location inside Armature Works and the Heights Public Market
---
VENDOR SPOTLIGHT- INSIDE THE BOX
When the developers embarked on creating The Heights, and in particular, Heights Public Market at Armature Works (the centerpiece), they not only wanted to make it cool, but they wanted to do good by their neighbors and their city.
While that is a broad goal with many interpretations, for them doing good meant working with local architects, reusing existing materials, and aligning with social entrepreneurs already working to improve the community.
Just a few blocks away from The Heights development property, on Florida Avenue, is Metropolitan Ministries, a non-profit you'll be familiar with if you have lived in this area for any length of time.
"Met-Min" helps the homeless of our region get back on their feet through various programs including a residence hall and daycare, runs a high-volume holiday food bank and toy drive during the winter months, and even has a school on-site (Patricia J. Sullivan Elementary). Its mission is to see those its helps through to self-sufficiency and stability in terms of employment, housing, and finances.
One of the nonprofit's life skills initiatives is the culinary arts program, whereby students learn to prepare, cook, and serve food over sixteen weeks, in a personalized, small-class-size learning environment. Over 175 students have passed through the program, learning the skills and nuances of high-volume food service.
Internally, they prepare several thousand meals each day for residents and workers at the Met-Min campus. Externally, the kitchen handles large jobs through a catering business.
Chef Cliff Barsi helped launch the jobs training program at Met-Min and now serves as Vice President of Social Enterprise. His knowledge and experience around food is eclipsed only by his passion for helping others.
After establishing the culinary arts program, his next project was conceptualizing Inside The Box, a chic lunch counter and deli, the employees of which are mostly funneled from the Met-Min culinary program and proceeds of which go directly back to Met-Min's bottom line.
You'd never guess that this sleek corner of the market is not-for-profit, thanks to a fresh white tile, wood, and steel design, and artisanal sandwich and salad menu.
Cliff and his staff of sixteen are meticulous in their approach to the humble bodega-deli concept, which isn't common in Florida but is so ordinary and essential in older, more urban cities.
You'll find standards like corned beef and pastrami, though they're nothing like what you get at the supermarket. All the meats are cured, roasted, and smoked in-house, while the flavor pairings are creations of both Cliff and some of his most creative graduates from Met-Min's culinary program.
So far, since opening about a month ago, Inside The Box's most popular order is the Roast Turkey sandwich: gouda, bacon, pickled onions, avocado, spring mix, tomato, and herb aioli on toasted multi-grain bread. I tried it myself after meeting with Cliff last week, and it was appreciably different and delicious.
Given the spaciousness of Inside The Box's spot at the north end of Heights Public Market, it was logical that it also carry grocery items (yogurt, milk, eggs), produce (fruit, vegetables, herbs), and fresh flowers (always a winning idea!).
So many people visit Armature Works for the lively environment and ready-to-eat selection, but as the neighborhood evolves, especially as THE PEARL becomes fully occupied and more buildings are constructed surrounding Armature Works, it's important to provide an option for grabbing the refrigerator essentials, as there is no grocery store close by.
There's a robust selection of gourmet local products as well, like jams from The Urban Canning Company in St. Petersburg and sweets from Piquant bakery, just a mile or so away in West Tampa.
All told, Inside The Box's three locations (two are already in place at Tampa International Airport and the grab-and-go format serves schools like Tampa Prep) and Met-Min's other social enterprise concept Dough Nation ("do-nation", get it?), recently opened in Downtown Tampa, are on track to do $3.5 million in sales and contribute 10-15% to the operating bottom line of Met-Min.
As you'd imagine, Cliff has already fielded calls from other developers and investors in other cities asking to franchise Inside The Box and Dough Nation, since they are such great culinary concepts with the added benefit of doing social good for their communities.
He says "all in good time," with a smile.
Long before work commenced on renovating and constructing Armature Works and THE PEARL, Metropolitan Ministries used these vacant lots during the holiday season to erect temporary tents for its seasonal collection effort of donated pantry items, clothing, and toys. Once Armature Works broke ground, the tents had to move, though the link to this amazing organization is stronger than ever.
The developers continue to collaborate with their Tampa Heights neighbor by supporting one of its genius social enterprises. Inside The Box adds appeal to Heights Public Market and its resulting popularity should come as no surprise.
It's great if you know the story behind the brand, but if you just love the food, that's OK too.